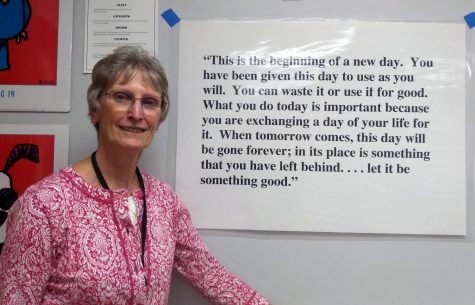 "You did not wake up to be mediocre today!" is the phrase written across Ann Lee's whiteboard just inside the doorway of Room One. Throughout the room the walls are filled with newspaper clippings and photos of Lee's students and their successes. Anything from play posters to photos of students cooking mark these walls, celebrating the accomplishments of each individual.
"I love what I do and I love the kids that I work with," Lee said. That's what makes this job, if you wanna call it a job, it's what makes this so special. It's been awesome, [I] can't imagine anything better."
When Lee's students found out about her retirement, they took it upon themselves to celebrate her. "I came in and they had balloons and they had cupcakes and lots of smiles on their faces and they got to see me teary eyed and cry and turn red," Lee said. "I tried to fight it off and it didn't work very well but… that was very touching and very moving that they did that for me."
The 2018 – 2019 school year is Lee's fortieth year, and the year she signed her retirement contract in tears. It was the "hardest decision I've ever made," Lee said. "I've [taught] for so long it's really a part of who I am. It's really hard to not imagine this being apart of my life anymore." The time for her to consider came up months ago, just two days after the return from winter break. Teachers are allowed an early signing date, leaving Lee wondering, "Am I gonna do it? Am i gonna do it?"
Lee had considered retiring last year, but when nightmares, insomnia, and dreams began to plague her she decided to stay. "[I] started reinterving, in my dreams, for a job like I had, and I thought: 'okay stop this. This is not going the way it's supposed to.' And life went back to normal," said Lee. The early signing date didn't come any easier for Lee.
"I put everything in my work bag and I went over and signed my paper. Cried. Told all the people I needed to, cried some more. Went home emotionally drained and I thought: 'What did i just do?''
As much as Lee loves her job, the long hours and paperwork are not something the teacher will miss. She hopes to spend more time with her husband, who's already retired. "I know some people have bucket lists of all the things they're gonna do, and I haven't gotten there yet 'cause it doesn't really feel like it's real," said Lee.
Earlier retirees gave Lee two pieces of advice: "Give yourself a year to figure out what life is going to be like" and  "when school starts in the fall, if you can take a vacation go away for the weekend – do something – because it's going to hit you again when you're so used to buying school supplies and getting your room all ready for the new year and just getting your brain thinking 'okay here we go again' – and it won't happen."
"I can't quite envision what it's all going to be like," Lee continued.
Lee, who's worked at Ames High for almost thirty years cumulatively, is one of the high school's special education teachers. "I started here in Iowa and I'm gonna finish up here in Iowa, in Ames," she said. Lee has lived in this state longer than any other in her life and calls it home, though she never expected she'd move from Minnesota to Iowa.
And so her parting words: "One never knows where their journey is gonna take them."