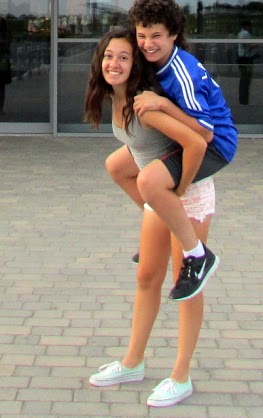 Picasa
Margit Herrmann is supposedly a sophomore at Ames High, but we have our doubts. She is currently in post- Nicaragua depression after spending a week there this spring break. "It was probably the best week of my life," said Herrmann.
This mission trip to Nicaragua was sponsored by St. Cecilia. The service work included working at a girl's orphanage, teaching PE at a school, visiting with the elderly, and helping to build a school.
Although Margit spent the week helping others, "I felt like they were teaching us about life and helping us more than we were helping them," said Herrmann.
Nicaragua opened Margit's eyes to a different way of living.
"Even though I didn't have my phone or all the comforts I have here, I was much happier and stress-free," said Herrmann in reflection.
Back at Ames High, Margit spends her time studying AP Bio, reminiscing about her spring break, doodling on her planners, and planning revenge on her enemies.
Speaking of AP Bio, when Herrmann was asked what upperclassman she would like to date, she responded, "Does Mr. Walter count as an upperclassmen?" Mr. Walter has yet to comment.
Walter is unsurprisingly Margit's favorite teacher. "On occasion he remembers my name