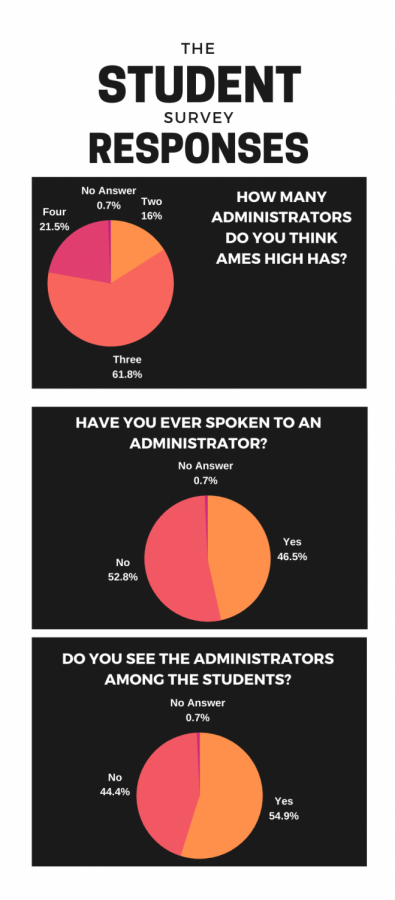 They're faces that go by in the halls, the lunchroom, who you pass by in the mornings with a short but courteous hello while hurrying inside. They are not seen in the classroom, but by title are meant to be the face of the high school faculty: the administration.
And most recently, they've been met with a new wave of backlash over newly implemented regulations.
Ames High School has three administrators*: Brian Carico, principal, along with Jim Mollison and Jeff Anderson.
"We as a team have kind of decided that it's our kids, it's not my kids," said Carico "so as opposed to Mr. Mollison saying 'okay your last name starts with an F you have to go over here' we want kids to feel like they can go anywhere."
The duties of an assistant principal are divided and shared between Mollison and Anderson. Mollison is tasked with scheduling, discipline, and accommodations through the special education law, whereas Anderson is in charge of attendance and those who need or have 504 accommodations. Additionally, both monitor sections of teacher evaluations.
"And I think too, at least in the past, our administrators have not been as active in working with kids on some of the day to day problems or difficulties of teens. That always went to a counselor, and we operate that we work along with the counselors, not that we send it to the counselors," Carico said.
Despite a list of substantial topics that affect day to day student life and the effort to become more involved, it seems unclear to students what they might need to see an administrator for.
In November, an anonymous WEB survey recorded 144 students' responses to a set of questions regarding administration, including how many administrators there were, if they'd ever spoken with one, or what they thought they would talk to an administrator about.
In response to the question 'What do you think the administrators are here for?', Many respondents left answers such as "to help things run smoothly in the school" or "to make sure our school is a safe organized place." Twenty-two left responses stating they didn't know, and 33 students left the answer blank.
"Probably to sustain order and enforce rules. Though it's hard if all they do to punish people is not give them a chance at a t-shirt. I think the administration is partially responsible for the rising anarchy in the school at the moment, along with the school board and their stifling hold over the teachers. But the fact of the matter is that there's a whole lot of kids that should be getting suspended (or given something that remotely resembles punishment or and the bare minimum chastisement) and nothing is happening," wrote student 11.
"To organize the efforts of the school, which usually results in failure to address any important issues," wrote student 62. Another,
Student 132, wrote, "honestly I couldn't tell you what administrator really means…"
When asked if they knew any of the administrators' names, 47 respondents left the answer blank and 22 stated they didn't know or knew none. One respondee wrote, "there's a new girl from last year."
Ames High School has more than 1,440 students, and 10% responded to the survey. Even with only a fraction of the student body, the results allude to a lack of knowledge or understanding regarding the high school's governing authority. "[I] definitely want to feel connected, I want them to know that this is a spot that they can come to if they need something. So that is important to me, so I do feel that I at least try that," said Anderson.
Regularly a high achieving school with minimal issues among the student body, Ames High seems to have gotten an uptake in disturbances, from fire alarms being set off, to bathroom destruction, to attendance crackdowns, and new scanners for student identification – it appears as though the order is slowly fading, and students don't appear to believe in administrator's efforts.
"There's always room for improvement with my communication and there's always room for improvement on how to connect with kids. The time that we say we know everything there is the time that we're gonna let our kids down, and so, ya know I find myself I may be the first person to apologize," said Carico.
The disunited viewpoint between students and administrators is not one side alone's fault. As much as the adults might seek to build a close-knit connection with students, it is an impossible task if no one provides ample explanation of the struggles students see in regards to regulation. If students don't seek to put a foot forward and promote their own opinion, favorable, discontented, or otherwise, then they can't expect administrators to understand and know what they want.
"Sometimes my student interactions are kind of driven by students that will come up and chat with me. I can try to go up and say hi as much as I can but some students are more outgoing, willing to chat," said Mollison. "The ones that help me build that interaction are probably the ones I have the best social interaction with just cause it'd be tough to walk down a hallway and say 'hey I'm gonna say hi to you and not these other three' – so you just kind of your thing and whoever says [hi] and kind of start from there."
"We had the panel earlier this year of students of color that talked to our faculty, [..] and I thought it was amazing that the kids were asking for help and asking for help with different racial statements or different micro-aggressions and to me that just opened the door to say that there is still so much more to learn about our kids then what we really know, and if we just take that time to talk to them – it's amazing what they'll say to us," said Carico, "Especially your juniors and your seniors, ya know you guys are adults and with that you need to be given that voice and that's how we learn."
It's a testy uncertain segment of terrain, the relations between authority and student – however, it's a necessary and important puzzle piece within the dynamic of the high school. If administrators are left to shoot in the dark with a fraction of moderate feedback while students complain among groups of their peers with no action, how can things be expected to change?
*Depending on the district, Athletics Directors are not always considered administrators. Since Judge Johnston is not included in monthly administrative meetings, he was not counted as an administrator for the purpose of this article.