Your 2018 Guide to Clubs
Hang on for a minute...we're trying to find some more stories you might like.
Interested in joining a new club, making new friends or just finding a place to hangout after school? Look no further – here's your 2018 guide to Ames High Clubs.
KEY CLUB
Service organization dedicated to volunteering around Ames. You can talk to Ms. Gillette for more information.
DECA
A career student organization that prepares emerging leaders and entrepreneurs for their future through community service, enhanced leadership and networking opportunities, and competitive events. Meetings are held every other week, with mini-sessions offered weekly. See Mrs. Hales, Iluda Ko or Kijune Kim for more information.
Student Council
Provides leadership opportunities and offers activities at school and helps set policy. See either Mrs. Diblasi or Mr. Burke if you have any questions.
Youth Diversity and Inclusion Committee
Strives to create awareness and promote social justice through meetings and leadership. See Mr Burke Or Mrs. Diblasi for more information.
Senior Mentors
This club trains senior mentors as they help freshmen transition to the high school and give advice on which bathrooms not to go into. Learn more about how you could become a senior mentor (if you're a senior) by talking to Mrs. Diblasi.
SACRE
Students Advocating for Civil Rights Education: Students meet to discuss social justice, diversity, and cultural issues. Led by Melina Hegelheimer, Abbas Kusow, Ayah Gleisner, and Simone Wesley, SACRE not only provides room for discussion but a safe place for those who need it. See Mrs. Muhammed for more information.
Young Americans for Freedom (YAF)
Young Americans for Freedom (YAF), American youth organization promoting free discussion and conservative principles, notably limited government and free enterprise. Non conservatives are welcome to attend. Ask Mr. Flannery for more information.
African Students Connect
First and Second Generation African Immigrant students meet to celebrate culture and discuss issues related to being a part of this demographic. See Mrs. Muhammed or Mr. Ogunsola for more information.
Citizens Actualizing and Understanding Sustainable Environments (CAUSE)
Student plan and carry out actions within the school and community to make Ames more sustainable. Visit Mr. Reichert for more information (not the German one)
Astronomy Club
Students study astronomy concepts and help plan and carry out community astronomy viewing events. BYOT (bring your own telescope) you don't actually have to. Come and enjoy the galaxy!  See Mr Reichert for more information! (again, not the German one)
Science Research Club  
A peer group to help students in process of scientific research. Outside sources of Iowa Junior Academy of Science, ISU, UNI, SSTFI, WISEF and others to help students with lab sites, equipment, and scientific review are available to all club members. Students do not have to have a project to attend club meetings or to attend extension activities. See Mrs. Tibben for more information!
Art Club
This group is for students interested in working on art beyond the classroom. Students may work on their own art and within groups to develop their own creative ideas to execute. See the legendary Mrs. Wede to see how you could become apart of Art Club!
National Art Honor Society
A subgroup of Art Club, you can apply to be part of this organization of artists. You will find more contest and scholarship opportunities, as well as ways to use your art in the school and surrounding community with service learning.
Mayor's Youth Committee
For 9th through 12th grade students who are civic minded and would like to work with Ames Mayor John Haila on topics important to them.
National Honor Society
The National Honor Society (NHS) is the nation's premier organization established to recognize outstanding high school students. NHS serves to recognize those students who have demonstrated excellence in the areas of scholarship, service, leadership, and character.
Chess Club
Meet Tuesdays after school in room 229 to play chess with each other. Winners live, and losers, well.
Spectrum
Ames High School's Gay/Straight Alliance — student led support, education and advocacy for LGBTQ students and allies.
Teens Against Human Trafficking
Student group educating and spreading awareness to prevent Human Trafficking. Contact Mr. Burke for more info.
Quiz Bowl
General trivia questions with about 5 tournaments a semester. Also hosts intramural iQuiz tournament in the spring semester. Meets Thursday after school in Mr. Lachen's room.
Science Bowl
Science and math trivia questions with 1 large tournament at the end of Jan. See Lachen for more info.
Smash Club
Play Super Smash Bros Melee (and Super Smash Bros 4) with other people that like that! (go to some tournaments on your own hosted by an ISU club. See Mr. Lachen for more info.
Fiber Club
Fiber club, ran by Abigail Tibben and Josephine Dorius, meets every Wednesday after school to complete knitting, crochet, and needle crafts. No experience necessary,

Book Club
Students select a book to read and meet every other week to discuss their thoughts about it. Meets Monday plus under Webb.
Mental Health Club
Mental Health Club, co led by Hannah Kruger and Audrey Kramer, discusses in depth different parts of mental health, providing information, references, and a discussion group. They currently meet weekly during Mr. Webb's Tuesday Plus Periods.
FCA (Fellowship of Christian Athletes)
Bi-monthly huddle meetings for students to learn about and encourage each other in living out their faith in all aspects of their lives. See Mrs. Dobernecker.
Dance Marathon
A group that meets all year working to raise money for the Iowa Children's Hospital. See Mrs. Seibert for more information
SADD (Students Against Destructive Decisions)
Students Against Destructive Decisions, otherwise known as SADD, works to offer positive outlets in teenage lives. They meet one to twice a month during plus period. Contact Mrs. Seilbert with any questions.
Girls Who Code
Girls Who Code is a group that meets weekly at the Ames Public Library. The group was started by previous AHS students and is now run by local engineers. Their first meeting was October 10th. See Seibert for more details
SASHA (Students Against Sexual Harassment and Assault)
This club is starting for the first time this fall. The student leaders are hoping to raise awareness about sexual assault/harassment through discussion, events, and speakers, potentially. Meetings will be held during Plus Period.
AHS Shout
Shout is a monthly newscast produced by AHS students. Episodes are shown in homeroom and broadcasted on Channel 7. Meetings take place during plus period in the ELP Alcove of the Media Center. Shout's senior-leaders are Jonathan Watt and Emily Wengert
Spoken Word Poetry
Spoken Word Poetry meets every other week during Mrs. Engelkes' Tuesday Plus Period. They provide a space to write, practice, and watch performances of student's poetry. Their first meeting is Oct. 9.
Garden Club
Students meet year-round (several times a week during the growing season) to grow food in a sustainable way. Most of the produce is distributed to club members, but the club is working to donate more of the produce. Club meetings are currently on Tuesdays and Fridays after school and during Monday PLUS period, come when you can.
Model UN
Model UN, ran by co-presidents Dakshina Paudyal and Hana Lee, participates in discussing the development and debate of policies for the U.S. and various countries in a Des Moines conference. They will be meeting during Mr. Zmolek's Friday Plus Period.
SHEPH
Students Helping Eliminate Poverty and Hunger. They discuss and address issues of hunger and poverty, not only locally but on a global scale. meetings Thursday mornings at 7:20 in room 107.
Speech Club
Students perform a variety of speeches in small groups or individually for contests. We meet from December to April and we will visit classrooms this fall to remind you about joining the club – welcome!
Debate Team
Meet weekly to learn how to do Public Forum Debate, Student Congressional Debate, and Extemporaneous Speaking on current political and legal topics. Compete in local, regional, out-of-state, and national tournaments. See Mrs. Deam for more details.
Lunch Bunch
Students involved in this club reach out to students sitting alone in the cafeteria to help make AHS a more welcoming and inclusive place.
Drama Club
Drama Club, lead by co-presidents Emily Noyes and Berrigan Cadogan, gives students a place for those with a hobby for acting and those interesting in doing behind the scenes work. Drama club meets during plus period every other Friday.
Fashion Club
Fashion Club, ran by Rachel Johnson and Eunpyo Joo, produces a fashion show of student designs. They meet on the third friday of every month during Mrs. Van Waardhuizen's Plus Period. Their first meeting was September 21st.
Ames High Girl Up
Girl Up is a national organization with chapters worldwide. The key purpose of this club is to raise awareness and enable girls in our local community to change the lives of adolescent girls in third world countries. Visit www.girlup.org for more information. See Mrs. Englekes for more information.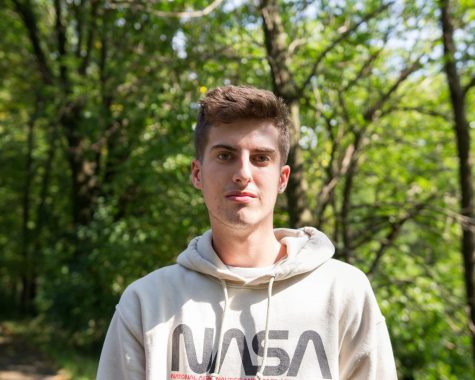 Liam Struck, Reporter
Liam Struck doesn't exist. 
Seth Bequette, Reporter
This is my first year on The WEB and first year in Ames. Seth Bequette (alternatively pronounced baguette and banquet) migrated from the land of soybeans and Cornhuskers to write for The WEB and complete their final two years of high school. Typically found by following the trail of hair dye fingerprints on paperwork, Seth is probably busy burning a disconcerting number of candles and watching Guy Ritchie films. On the side, they might remember to write their WEB articles. Now, using the words of British actor George Sanders, Seth is signing off - "Goodbye, I am leaving because I am bored."