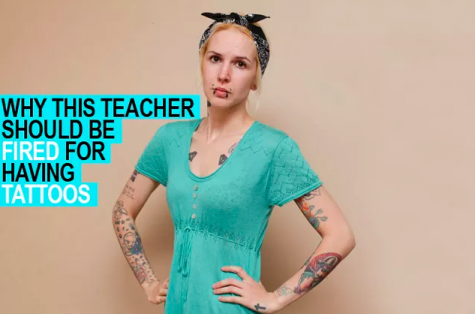 There's nothing quite like getting the stink eye when you live in a cornfield and soybean plagued mid-west America, but alas, so is the trouble of walking around with blue hair.
"How'd you convince your parents to let you do that?" It's a persistent question, one I've gotten many times while the person speaking gawks at the colorful entanglement of hair atop my head. I never had to convince anyone to let me do whatever I wanted with my hair, whether that meant turning it blue or shaving it all off. Rather then fighting me (in fact, the dyed hair was my mother's doing), my mother instilled that my creative expression was more important then adhering to a societal box of normality.
Also, it doesn't matter.
Right now, I am a seventeen year old senior in high school, who arguably should not be making life decisions for my future self (but that's an existential philosophy for another time), and am still legally considered a child. Childhood is the only time in your life where what you look like isn't mandated by the expectations of a company or organization (unless you go to private school, in which case I can't really help you).
After we get shipped off to college or tossed into the workforce, there's a pregenerated guideline of rules enforcing expression.
For the sake of avoiding everyone's "you have to look professional" comments, I will say that I see where companies are coming from with their rules – and I have no expectation of the world suddenly becoming this Utopian existence where no one judges another person. However, I think it's moronic to enforce a policy of 'no unnatural hair colors, no facial piercings, and no visible tattoos' when a majority of employees are generally teenagers and young adults who have all been told they have "the freedom of expression."
Guess the phrase should have been "freedom of expression until it conflicts with our 30 year old policy and regulations handbook." Words lost to time I guess.
The time has changed stigma: it's much easier to walk around with these 'dubious' forms of style and not get a look of repugnant horror, but most companies still maintains some sort of policy against one of the three. It's easier for them to mandate and please as many customers as possible.
"They don't want to rock the boat, and I respect that," said Shelli Hassbrock, "I think it depends on the industry."
Hassebrock is one of Ames High School's art teachers. She returned from the 2019 summer break with teal streaks mixed in with her blonde hair. Hassebrock, who attended college in the eighties, said she generally didn't know anyone with dyed hair, piercings, or tattoos as we recognize them today. "[They were] looked down upon a little. Or a person that had colored hair or piercings, you would think that they were wild," said Hassebrock.
"If I saw a person when I was younger, with a lot of piercings or hair color or tattoos, I am sure I would be a little intimidated … Because it wasn't around, you didn't see it much," said Hassebrock. "Like if I saw a man with tattoos all over his arms, I would be a little intimidated or maybe a little afraid. I mean I did know some men who had been in the military that had one tattoo [on their upper arm] but not all over their arms."
STAPAW, whose acronym stands for Support Tattoos and Piercings at Work, strives to work with businesses and companies to address hiring policies and regulations regarding tattoos and piercings in the workplace.
The group was started after a friend was fired from a management position for having tattoos, piercings and plugs (stretched earlobes) after two customers complained. The boss was scared they were losing customers as a result of their employee's appearance. The group was launched on Facebook to send a message from the hundreds of customers who thought the contrary, getting over 500 people on board with the campaign.
Using the slogan "My Body Is Not My Resume" STAPAW has since continued with a mission to help people to keep their jobs and eliminate the stigma surrounding piercings and tattoos.
"I've had students that have taken out all the piercings to go get a job at a certain place that they wanted knowing that when they go to work they have to have them out but when they go out at night they can put them back in," said Hassebrock.
According to their website, STAPAW recently found that 120 high schools and colleges had kicked out students for having dyed hair, and others had placed students in ISS, in school suspension. They found some even took student's school credits, preventing some from graduating.
This reaction to expression can damage a student's future opportunities, but more importantly it shoves a message in their face: Conform or suffer the consequences.
"We have a former student here who he went on to medical school. He was just an average guy, football player, maybe a little more straight laced, but as he went through med school he got sleeves [of tattoos] and they were super cool, but he had to wear long sleeve white shirts for his interesting stuff at the hospital because they didn't want all that showing," said Hassebrock.
STAWPAW's website lists that last year, twenty eight major companies and hundreds of small business changed their dress codes.
"I think it's changed a lot because it's more prevalent in society – we see all kinds of people with tattoos, all kinds of people with piercings, all kinds of people with hair color. Not just what we would have said is like 'that's a wild person'… it used to be motorcycle riders had lots of tattoos and piercings – well that's not the case "
According to STAPAW, the number of people with two or more tattoos as doubled since 2007, and 61% of American adults have had piercings (including ear cartilage). The commonality of these things will only grow, and it won't just be in the 'big cities' or in alternative, submersive cultures. Companies just need to stop dragging their feet and admit it's time to go into the rule books with a red pen and make some revisions.