Put the "Chris" back in Christmas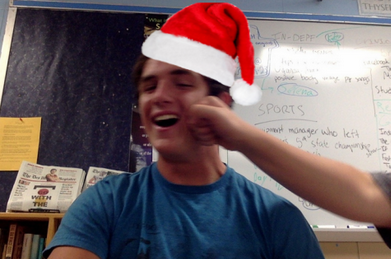 As the holiday season is traditionally revered as a time of giving and reflection, it is in our best interests to pursue these values to the utmost of our capacity; regardless of religious, social, or moral affiliations.
And so, in the spirit of the season, I offer you all a simple solution. Satisfy your yearning to give back by dedicating this Christmas to your favorite Web Staff Reporter, and I will gladly receive your gifts with open arms. Yes, folks, it is indeed time to put the "Chris" back in Christmas.
For generations Christmas has been dominated by a strong lineage of Chris's. From the early Christians through Chris Christie and Kringle alike, the linkage between these high achievers and the Christmas celebration has been a historic one.  As the man who literally invented the Americas maybe once said, "Christmas just might be the dopest holiday out there."
Though once considered the norm, Mr. Columbus's strong take on the season happens to be an increasingly uncommon opinion nowadays. Ever since the tragic death of Kris Kringle, Chris's have been losing their grip on the holiday once thought to be exclusively theirs; nowadays being almost entirely exiled from affiliation with the celebration altogether. As the Christmas Heuristic Rating Information System – or CHRIS for short – has indicated an increasing dissatisfaction with the holiday season, it is clearly time for a reversal of these trends.
Today, it has become apparent that a revival of the old tradition is needed. This year, we must make a conscious effort to keep all Chris's in our minds during the holiday season. Leave an extra gift in the stocking for Chris. Kiss a Chris under the mistletoe. Top off your tree with limited edition stuffed Chris tree-toppers.
Regardless of the action you take, remember the true meaning for the season as you go about your own personal Christmas traditions this year. And don't forget the "Chris" in Christmas.