Palo Alto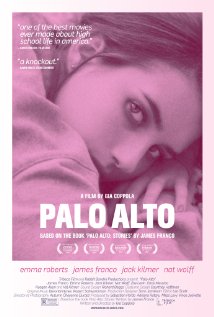 Palo Alto is the perfect movie to watch with your parents whenever you're in trouble in order to prove that you aren't as bad as you could be. Derived from a book made up of a series of linked short stories written by James Franco (ew), it is loosely based on his teenage-hood spent in California. Directed by Gia Coppola (Sofia Coppola's sister), James Franco stars in it along with Emma Roberts and Nat Wolff. This movie is full of drug abuse and drunk driving so ignore what I said about watching it with your parents, not a good idea.
The movie was extremely boring and i had to force myself to finish it. It had a really complicated hard to follow plot because of the different storylines and some of the words they used sounded like some 40 year old trying to sound hip (James Franco wrote it so it makes sense). The only thing that saved the movie (barely) was how pretty it was.
Overall it was an awful movie.  3/10 Watch only when desperate.