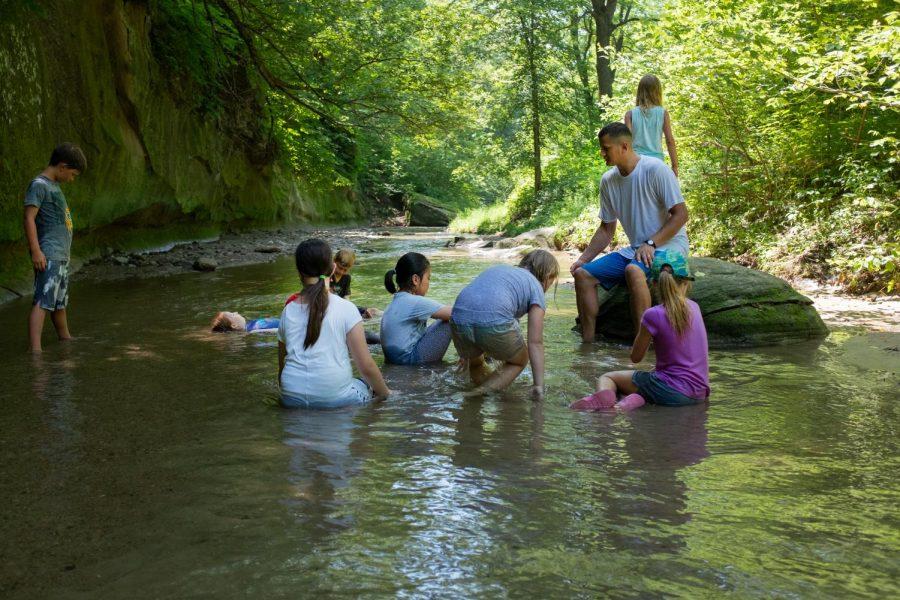 Preschool and elementary school kids dart around wooden benches layed out in the grass. In each eager hand is a natural item; a pinecone, a leaf, a blade of grass that they dip in paint and use to leave patterns on the benches.
A few paces away, older kids use wood burners to engrave a quote into the backrest of the bench: "Education, I fear, is learning to see one thing by going blind to another." It's a quote the students selected from A Sand County Almanac by Aldo Leopold, the bench they decorate is known as a Leopold bench.
This scene is from The Community Academy (TCA) 2018 Summer Experience, a program designed to engage students in a meaningful, nature-based experience that leaves a lasting impact in the community. Students involved in the program monitored water quality, investigated Ledges Park and its history, and participated in overnight trips.
TCA is an academic non-profit born from the desire of Ames High teachers Mike Todd, Collin Reichert, and other educators to engage in a type of education that they were unable to do in the traditional classroom.
"We both thought we could do more. We weren't satisfied with the end result of our regular jobs," Reichert said. "I'd like to do more than scratch superficial topics."
Reichert explained that in the traditional setting teachers are expected to cover a large amount of content in a short amount of time to a large class of students. Reichert describes the frustration of barely being able to get to know a class before sending them on their way, often with only superficial understanding of the material. Additionally, the short class periods necessitate a very rigid structure in order to cover all the content. This rigid structure, the volume of abstract concepts, and lack of hands-on learning, often leave students unengaged in education.
"How many students ask what's the point of school — or worse — they just hate it?" Reichert said. TCA addresses this by turning the traditional model on its head. Instead of being content centered, it's centered around mentorships and the development of skills. Rather than the learning taking place in a classroom, the learning takes place in nature and in the community. The measure of success is not a grading system, but rather the feedback of those who the projects impact and students' own self-evaluation.
"The Community Academy is the place where we think students can actually respond to authentic community needs in productive ways and leave impacts on a community that spans beyond their generation to future generations," Reichert said.
The 2019 Summer Experience starts June 10 and runs for three weeks and is open to students ranging from kindergarten to high school.
The students will be working with the Ames Parks and Recreation Department and other community partners to restore the Audubon trail in Brookside Park. Students will remove invasive vegetation, working with graphic designers to create signage, and do other tasks the students decide to work on. While some of the structure of the program has been designed by the staff, a big component is allowing students to guide the direction of the program.
"When it comes to project-based learning, by its nature it has to be somewhat ill-structured. There is far more creativity, collaborative and problem-solving skills developed when we have an authentic project where everything isn't predetermined," Reichert said.
In addition to project-based learning, the program will include elements of placed-based education, exploration of food systems, and mindfulness education.
The place-based education component will explore students' direct sensory experiences of the place, as well as exploring the Native Americans who were a part of the local land for thousands of years before European colonists, and still offer lessons for western culture. Through a partnership with Food at First and by visiting local gardens and farms, students will also investigate how food is grown, processed, and cooked. The meals for the program will be prepared by the students involved in the program.
Central to the mission of The Community Academy is ensuring that the program is available for all students.
"We firmly believe in equity and making sure our program is accessible to everyone. We would like to have a program that is free of charge," Todd said. Despite extensive fundraising efforts, TCA is not yet able to offer a free program, but instead offers a sliding scale for students based on household income and family size. Additionally, half of the slots for the program are specifically saved for low to moderate income students.
"Meeting the needs of everyone in large systems is difficult, and addressing the issues that show up in school from society is hard to keep up with," Todd said. "Naturally, coming up with structures to address this takes a lot of time. We want to do what we can to help meet the needs of students in our community and being a small organization helps us have the flexibility that large systems do not."
Interested students can register for the program at https://thecommunityacademy.org/. With registration now open and slots filling up fast, TCA is excited to see their program coming to fruition
"Being part of an effort where students of all ages interact with each other to enrich our community is one of the most rewarding things we've done in our lives," Reichert said.