Halei Hedke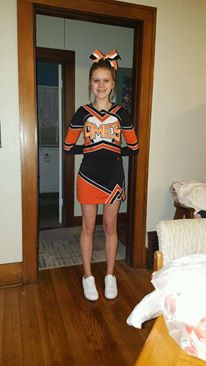 Formally known as Halei Hedke and informally known as "Mrs. Torkildson's granddaughter" this freshman cheerleader is ready to face high school head on. "I love high school! I just hate having to get up so early," was the only complaint that escaped Halei's mouth through the whole interview.
"I like to think myself a girly girl. My favorite color is pink." Halei explains. Her favorite class is Child Development, right next to Science with her favorite grandparent. Along with Child Development and Science, Halei is taking German as her foreign language. "I guess I decided to take it because I'm mostly German and not a lot of other people picked it."
Halei truly an independent and confident soul. "My favorite thing about myself is how nice I am," Halei explains.
Her favorite movie is the Addams Family due to it's humor and how corny it is. Halei also like sleeps, rap music, smoothies, laughing with her best friends Regan Gibbs and Natalie Flugrad. "We actually just got close these past couple years. They're pretty cool. They know how to make me smile." Halei reported fondly of her friends.
In the near future she wants to join track and have an eventful cheer career, but in the distant future she wants to be a massage therapist. "I've always been really interested by the human body."
Halei is also a dancer, and has broken her arm twice, in the same place, doing the exact same thing. "I'm kind of clumsy, but I still think I'm an alright dancer," smiled Halei.
Good luck, Halei. Ames High School is lucky to have you.