Black stereotypes in Swift's new music video
September 3, 2014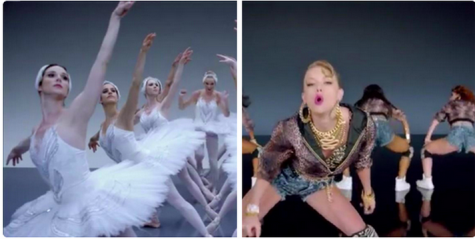 Taylor Swift has been the 21st-century paragon of embracing individuality for teenage girls. From grade school, girls have idolized Swift for her apparent creativity and lifestyle imbued with whimsical clichés. T Swizzle encapsulates the fantasies of young girls, as she defies the negative stereotypes of Hollywood celebrities. She prefers Ked's over Jimmy Choos. She shops at Dean & Deluca to make her own meals rather than eating at extravagant restaurants. Yet, she dates people from Harry Styles and Jake Gyllenhaal to Evan Spiegel, CEO of Snapchat.
But, through Taylor Swift's viral music video of her new single "Shake It Off", Swift's supposed image of originality and tolerance has absolutely been shattered for me. The music industry has exploited Taylor Swift as a product under the premise that all of her thoughts and actions are correct. This reputation of Taylor Swift has caused her fans to not question or second-think her media portrayals. Taylor Swift's fabricated facade has allowed systemic oppression to perpetuate in society, as individuals become deceived by the magnetism of her lyrics and do not actually attempt to evaluate the singer's deeper messages.
I cannot be less blunt. Taylor Swift's new music video is extremely hypocritical and self-righteous. The lyrics of "Shake It Off" voices the pop singer's struggles as a public figure, her tribulations with scathing critiques of her dancing abilities and relationship history. I do appreciate Taylor Swift's attempt to express her sorrows, but it is incredibly demeaning to visually encompass her personal sufferings in contrast to systemic oppression that is deeply rooted and perpetuated in society to this day. While Taylor Swift discloses her hardships as a celebrity in her music video, she neglects the fact that her own videos are elaborating on racial stereotypes that not only impact one person but systemically oppresses an entire population of people. While Taylor Swift physically attempts to express her inability to "dance well" in her music video, the scene with ballerinas are filled with white women in white ballet tutus adorned with glistening silver sequins, relaying a "Swan Lakesque" feeling. While white women are poised elegantly and gracefully dancing, Swift also attempts to twerk. In this scene, her backup dancers are all black women who are wearing leopard-print jackets and provocatively short denim shorts, accessorized with the Air Jordans. While Swift may interpret these scenes as her futile trials to dance artistically or ably, she is oblivious to the fact that her "artwork" is continuing racial bigotry with respect to the arts.
While Taylor Swift may embody the celebrity figure or the typical teenage girl, everybody goes through everyday suffering; everybody has downfalls in his or her life. Though Swift's troubles may be greater in scale, this does not provide justification for projecting racial stereotypes as a "inconsequential background" for the music video. It is utterly hypocritical for Taylor Swift to vent her own struggles while perpetuating racism, an ideology that has provoked unforgivable persecution for entire populations of people. The scope of racial prejudice is incomparable to the personal conflicts of one individual, whether that person be a common layman or an illustrious character. It is extremely distressing that millions watch Swift's new music video without being alarmed of the destructive power of the music industry. Taylor Swift, and many other influential artists, have the unfortunate power to subdue the inhumanity of institutions such as racism. These reprehensible beliefs are so implicit in the music industry today that it is difficult for individuals to recognize the wrongs of these issues and call for change.