Andres In Space
November 16, 2017
7 years before Andres Cordoba was born, the Voyager spacecraft turned back towards home for the last time, capturing its final image of earth. Using the famous last photo to describe the insignificance of planet earth to a crowded Cornell lecture hall, Carl Sagan proclaimed "To me, it underscores our responsibility to deal more kindly and compassionately with one another and to preserve and cherish that pale blue dot, the only home we've ever known."
Somewhere in a vast cosmic arena on that pale blue dot, lives Andres Cordoba.
Andres says this quote by Carl Sagan is central to his philosophy.
"The earth is the only home we have. We're just stuck here, and everything that has ever happened, that we care about has happened in this very lowly corner of the universe," said Andres. "That kind of brings us together, because we're all just random pieces of consciousness floating in a giant abyss."
It isn't difficult to see why Andres draws inspiration from an astronomer like Sagan. His dedication to science shows in his whopping load of AP classes – Just in his sophomore year, Andres is already taking AP Biology, AP Physics, AP Calculus, and APUSH, as well as an online AP Statistics course for good measure.
Andres says out of all his subjects, his favorite area of study is abstract math. "I like pure math, like proofs and stuff, I think math looks really beautiful," said Andres. "Shoutout to last edition's interviewee Chiara Travesset for spending two hours with me just randomly geeking over math."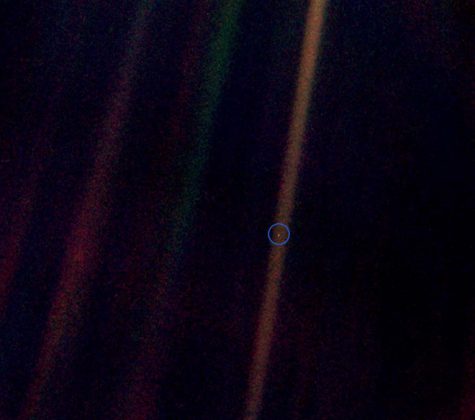 Although Andres may enjoy learning abstract mathematical concepts, the practical nature of physics is just as interesting to him. "To me, physics has theoretical things, but also lets me tie math back into reality." said Andres. "For a pretty basic example, if I roll my pencil off your little computer screen here, there's a mathematical equation that says how it's going to roll and when it's going to get down there."
Andres is already pursuing science at a high level. This past summer, Andres spent several weeks at Northwestern University in Chicago to take a college course in chemistry. The catch – learning a yearlong honors course in 15 days.
"Every day we had like 3 hours of homework," said Andres. Despite the rigorous workload, Andres felt the experience was positive: "I also met a lot of really cool people."
While he was there, Andres also gained extensive knowledge in more PG-13 areas of the college life. Never one to pass up a good learning experience, Andres wholeheartedly engaged himself in "rebellious frat boy activities" such as "beer pong with coke." Even though he had the time of his life, Andres would like to stress that all activities were "not forbidden by the law in any way, shape, or form."
In the future, Andres plans to attend university to study physics. As for the school, Andres has his eyes on the prize – when asked which university specifically, Andres said "As selective as I can. Ivy would be nice, but that's…hard. But y'know, that's the goal," said Andres. "Like Allman's poster says, if you shoot for the moon and you don't make it, you'll still land among the stars!"
Until then however, he'll be here – somewhere in our vast cosmic arena, on a pale blue dot.