History of Shout
November 16, 2017
As you shuffle into homeroom on any given Wednesday and head over to your seat, only one thought is racing through your mind: "Is today one of those Wednesdays when I get to watch Shout?". Ames High Shout, a media outlet produced by students, is a welcome 10 minute interruption from the otherwise hectic school life. Students get a break from worrying about upcoming finals or one of Tim Mooney's APUSH quizzes, and instead have a chance to learn more about their fellow classmates or school activities. However, Shout has not always been a shining beacon of Ames High excellence that it is today. In this issue you'll learn about the origins of Shout, its creator, and some of its plans for the future. All this and more on this month's edition of Ames High WEB.
When Ben Sulzberger entered AHS as a freshman in 2011, he was prepared to leave a legacy. "I realized that despite the CCTV system being present in every classroom, there was no student news broadcast like you might see in other schools," said Sulzberger. "Well, with a school as exceptional as Ames High, I thought that was unacceptable." Being part of an organization called Ames High Twist, a club intended to serve as a multimedia news platform, Sulzberger was tasked with creating a visual aspect for the program. Unfortunately, Ames High Twist died 
down by the end of the year, but from its ashes rose the club we all know as Shout.
The process of creating an original club such as Shout is not as difficult as some people might think. "I approached the ELP department and then later Patrick Hall about what we would need to do to start producing a monthly news segment during homeroom," explained Sulzberger. "They told me all I had to was make it and then they'd handle playing it." Although simply creating a club might not require a great amount of time or sacrifice, making sure it's still running after 6 years definitely does. "I think that I filmed all of those first few episodes myself," said Sulzberger. "Depending on the month we were either on top of things, or scrambling at the last minute to film something, anything and put it up for the next Wednesday." Even so, Shout has fought through all the challenges of producing, filming, and editing, and has established itself as an Ames High tradition.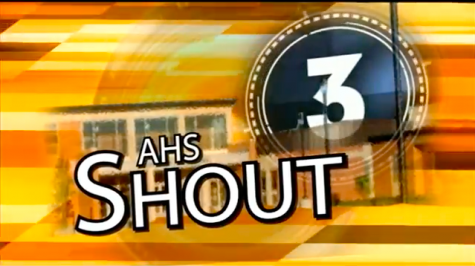 From its creation in 2011, Shout has shaped aspects of its creation process to be more effective and orderly. "Shout has changed drastically since I joined. Not only are there completely different people involved, but our whole writing process has changed," said Jonathan Watt, the current leader of Shout who has been a part of the club since his freshman year. Although the standards left by the original creators of Shout were high, Watt is not prepared to let his club die down and has many plans for the future. "I hope to improve our camera work and production value," explained Watt. "Last year we were just trying to see if we could even keep the show going after all the creators left, but this year we have a better idea of what we're doing."
Let the creation of Shout serve as a guide for any ambitious Ames High students looking to leave a legacy. From a disorganized group of three people to a successful news organization, Shout has surpassed all odds and become a welcome part of AHS. "Honestly, we were just a handful of freshman who asked nicely if we could do something and they let us," said Sulzberger. "That's sort of how Ames High operates and I appreciate that about the place a lot." So from incoming freshman to seasoned upperclassmen, make sure you take initiative of your ideas and you might just be responsible for creating the next Ames High School tradition.