Black History Month
February 14, 2018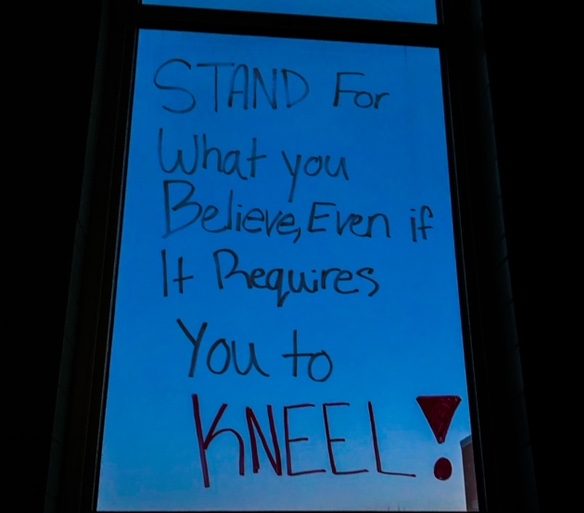 Ninety or so students line the walls of the Multipurpose room. Every chair is filled, along with a good amount of the floor space. At first the room is full of lively chatter, but this instantly dies as the meeting begins.
The discussion begins, stemming from all over the room. Hands raise, and voice after voice fills the room. The topic today is black history month. Polite, civil discussion fills the next half hour as opinions and experiences are shared and listened to. "As a child I had a very hard time trying to find my identity, you know, with my dad being from Germany and my mom being from the Ivory Coast," said Melina Hegelheimer, Junior co-leader of SACRE. "I couldn't really put myself in a place where I felt like I really belonged. And I think if I had known more about people who were like me that would have helped me a lot and I think that is what black history month does for a lot of kids." She described how over time, small things that made her feel different added up. She referenced people unintentionally implying that her type of hair wasn't normal and the cumulative effect that had on her.
"In Ames there is not a whole lot of outright racism," Melina said. "But there is a lot of microaggressions. That's little things that kind of make someone feel like they are different or not good enough [even] when it's not explicitly stated like that." Microaggressions are a difficult problem to address, Melina said, because it requires first for people to become aware of it.
"I think the most important thing is just make white people aware that the things that they say  can have consequences no matter what they intended," Melina said. The reason for the microaggressions in the first place is a lack of education, often as a result of biased history.
"When they teach it to you as children, they are trying to sugarcoat it as much as possible," Melina said. She referenced the glorifying of Columbus, and how this sort of misrepresentation can leave white students with a skewed view of historical figures and history as a whole. It also is harmful to black students who grow up learning a history where those who historically enslaved or impressed them are deified, while the contributions of African Americans are underrepresented and African American culture is rarely touched on.
"Black history gets left out of American history so much," Melina said. "Black history is barely touched on in any classes and there is so much about yourself or your heritage that you don't really know until black history month." It is a time for African Americans to learn and honor their history, but it also goes beyond just doing that.
"Black history month is not just for black people. White people should participate in it as much as possible as well," Melina said. "Black history is about accepting everybody for who they are… that includes race, gender, everything else. Try to get involved and celebrate people that are different from you."