Thriftin'
April 2, 2018
I'm not going to lie. I felt a little bit like an FDA inspector going into these stores with a hidden agenda. It wasn't all stealthy smooth, though. I either forgot my phone (for note-taking) or it died upon arrival at at least three stores. I found some tissues in clothes I tried. I even had a checking account fiasco that forced me to abandon a floral crop top, which I will touch on later.
That being said, I made it out alive. Poorer? Yes. But stylish nonetheless. I staked out five thrift stores here in Ames so you didn't have to. And to quote Macklemore, (because all of y'all are thinking it), I popped some tags.
OVERFLOW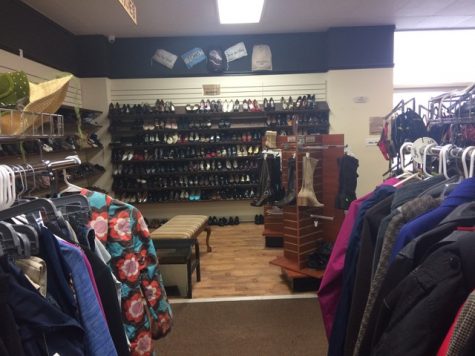 Located on Duff Ave., Overflow Thrift is an unexpected gem. The shop's layout is different than any I have seen—more like an open house than a thrift store, with carpeted floors, couches and nooks of clothes, art, books, jewelry, decor and housewares and more. The decorative lighting contributes to the unique atmosphere. It's kind of like a garage sale and an open house all in one.
As for the clothes, I wasn't the biggest fan. Brands I saw included Anne Klein, Maurices, Faded Glory, Wet Seal (for my ladies, but they do have a men's and baby section as well). The clothing selection is not very large, and compared to the other stores, I didn't find much that I liked. In the back of the store by the clothes, there is a hanging sign with a color-coded key: different colored indicating different prices (ie: white=$3, pink=$5).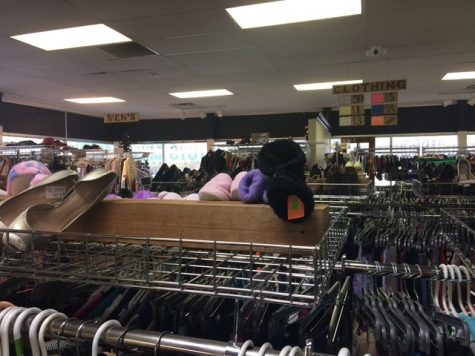 The store's proceeds go to various organizations such as Butterfly Freedom House, a program for women coming out of incarceration, Wings of Refuge which helps survivors of sex trafficking, as well as helping a poor county in Appalachia and sponsoring 15 orphans in Uganda—to name a few.
I most likely won't frequent this store for clothing, but I commend its mission and the unique and well taken care of items it displays. The prices weren't half bad either.
THE LOFT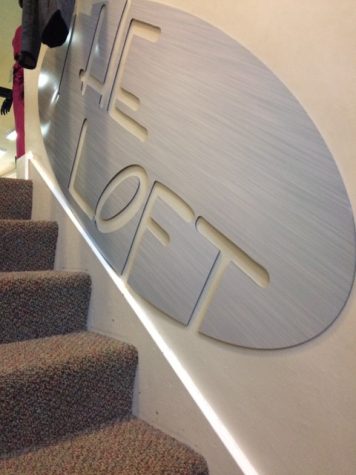 I have shopped at The LOFT for many years, but I've only recently found out that its name is an acronym: "L" for latest, "O" for on trend, "F" for flawless, and "T" for top brands. These overarching criteria are evident within the store, with brands like Elle, Nike, American Eagle, and Forever 21 making recurring appearances. The store exudes youth, thus that is the population it attracts.
The store is located at the corner of Main Street and Kellogg downtown, and has an unexpected set of stairs in the back that lead to the second level of the store, currently housing men's clothing, shoes, athletic wear, formal dresses, and more. Some shoe brands I saw included Vans and Sperry, and I tried on several leggings from Nike, Athleta and Lululemon. I ended up getting a pair of incredibly comfortable Nike joggers and a Nike jacket for under twenty bucks. *Cha-ching.*
I would consider The Loft the T.J. Maxx of the thrift stores I visited. The prices were much better than what the original would have been, but still not as cheap as Goodwill or Salvation Army. However, the clothes are affordable and their quality is impressive which keeps me coming back.
SALVATION ARMY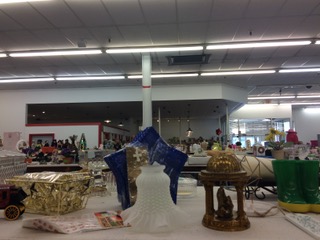 So, Salvation Army was a rollercoaster. Located by Hobby Lobby, it was the largest store I visited by far. I've only visited once or twice before, but I had a positive experience each time. The store has a massive women's section, as well as men's, children's, furniture, books, and other random trinkets. Some brands I saw included Calvin Klein, Banana Republic and Forever 21.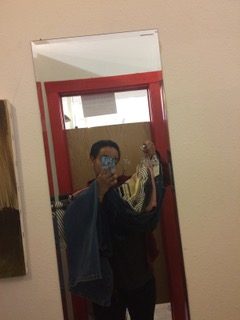 Salvation was the one store where for every few yards I would walk along the lengthy, color-coded racks, I accumulated massive amounts of clothes. And I found some steals. The only reason I left for the fitting room was because my shoulders were about to pop out of their sockets from carrying the clothes. There were name-brand jeans for under $5, and I ended up getting a pair of Calvin's for $4.99.
The excitement caused by the amazing deals was the uphill portion of the rollercoaster ride. The downhill began the moment I found out my checking account did not have enough money for everything I wanted, and online banking decided to fail me. I had to say "ciao" to a floral top, and even th
en I was cutting it close. However, the lady at the checkout came through with a 50% winter sale and saved the day. I paid $10.96 for three tops and a pair of jeans.
My wallet was happy and the selection was great at Salvation Army. I will be back.
RANDOM GOODS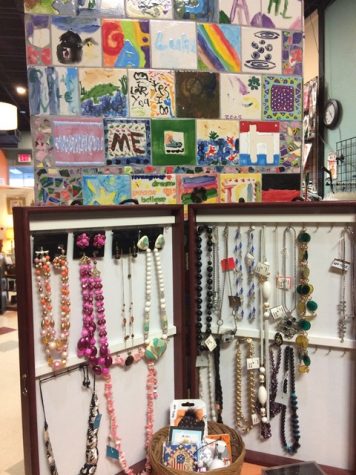 Random Goods is another Main street thrift store, located a short walk from The Loft. The shop has a small brown sign that makes it hard to spot, but it's interior is charming.
It's a vintage store and the selection is pretty small, but it was fun to peruse and find unique items while chatting with the friendly owner. Surprisingly, in the sea of vintage attire is a sizeable rack of ISU gear. The store mainly houses women's clothing, with only a limited men's section, somewhat of a common trend between all the stores I visited.
"I believe that men are super underrepresented in the clothing industry," Junior Aidan Diggins-Kennedy said. "While I'm browsing through the Kohl's catalogue, I see nothing but gentrification: cargo shorts, v-neck sweaters, [and] khakis are all too common, and the color orange is done such a terrible injustice in stores these days. It's a little unfair because men are not expected to put nearly as much effort into the way they look as women are, and expressing themselves through fashion can be seen as emasculating, which isn't very swell at all."
This store is great if you are looking for eclectic knick-knacks, fashion by time period and other vintage items. I ended up buying a very unique, well-fitting pair of high-waisted jeans for only $10. Although the store isn't somewhere I would shop often, it is a great, affordable option if you're looking for some old-timey swag.
GOODWILL
Goodwill was the last store I visited. I felt as though I had been all shopped out, but to my surprise I spent more time there than anticipated. I was, however, too tired to try on loads of jeans because that is a lot of work and often disappointing. Multiple-pair jean-trying must be a scheduled thing for me, my mind wasn't there that day.
Against the grain of popular culture, I deeply admire the style of Phoebe Buffay from the TV show, Friends. Her relaxed bohemian style; the way she layers her jewelry; the pops of color; and of course, the iconic statement jackets. At Goodwill, I ended up at the jacket section, and I probably tried on close to ten, which is a testament to their selection.
The jackets were a sad case, mostly due to sleeves being too long, or the jackets being to bulky. I also ran into some dry and crumpled tissues when I stuck my hand into one of the jacket pockets.
Some negatives about Goodwill is that there is only one fitting room, so I had to wait and have mini coat-breaks. The store is also pretty jam-packed with narrow aisles.
Overall, Goodwill simultaneously met and exceeded my expectations. The jacket situation was a big bummer though, because I really thought to myself, "Selaam. This is it. This is going to be your Phoebe moment." Yeah, well it wasn't. But that's fine. I will return to Goodwill in the future with a similar mission and hope to find success.