Spiffing Griffin
April 25, 2018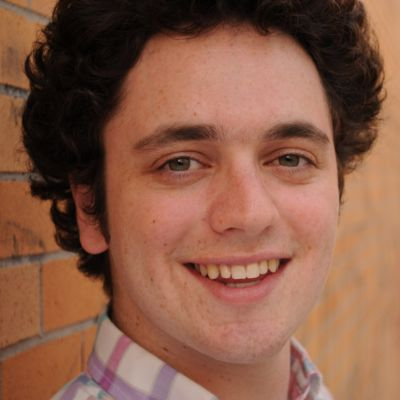 Known for his curly hair, glasses, and extensive collection of sweaters, Griffin Meyer is easy to spot when out in the hallways.
"This last winter I really stepped up the sweater game – I have maybe 30 or 40 sweaters," Griffin said. However, beyond his stand-out appearance, there is his vibrant personality, such as his friendly, light hearted aura or his eclectic knowledge of movies.
"Junior year I just decided I would write down every single movie I wanted to see and I would just go through and watch them and review them potentially." He finds time to watch movies after school and during the night, watching films from Netflix, the library and his own extensive personal collection.
"I'm a film buff," Griffin said. "I've seen over 300 movies in the last year." His favorite of the ones he has seen is the 2002 film "City of God", describing it as the most perfect well-rounded film he had ever seen. He has done some 150 reviews of movies on his Instagram. Griffin enjoys all genres, but his favorite is either horror, because it tends to be more experimental, or drama, which he said has so much potential to capture human emotion.
Griffin also loves to help tell stories through his role in the Ames High Tech Crew where he helps behind the scenes, building sets and being a part of shift crew, the group of students who shift set pieces during the actual production.
"I've met the most amazing people [in tech crew] – ride or die friends that are just the best to be around," Griffin said. During his junior year of high school Griffin got a job and spent a year away from tech crew. Seeing a production at the high school which he had not been a part of was one of the saddest things for him. He since then quit his job to spend more time doing tech crew but also pursuing his interests in culinary arts. He plans to study culinary arts at ISU in hopes of becoming a chef or to work in the food packaging industry.
The only thing on his bucket list, he said, is to cook the legendary Il Temprano, an exotic Italian dish movie from the film "Big Night". The legendary lasagna cake combines some 50 different culinary experiences into one dish. His goal would be to create this dish and share it with his friends to showcase his progress as a cook.
With his dedication to spending a large amount of time watching movies and his love of food, he is well on his way to achieving one of his biggest goals in college. "

"

. I plan to gain 300 pounds freshman year. The freshman 300."

," Griffin said.
He concluded with some advice for all movie watchers. "Just watch trailers up to the point when you're intrigued, that you'll say you are going to go see this," Griffin said. "I've ruined a lot of movies by seeing too much of it at once, and the best movie experience you can have is going completely blind to a film."