Jens "not Gens" Hoifeldt
Quick facts:
Favorite thing about spring:The two days of nice weather we get here in Iowa.
Crunchy-granola or fruit-snacks?Fruit snacks.
Level of cynicism: Not as much as Asher Bergman.
Last interesting book read: "This Band Could be Your Life: Scenes from the American Indie Rock Underground 1981-91" by Michael Azzerad.
What teacher are you going to miss most here? Mr. Ripley, hands down. Or Mr. Ewan, teacher-wise.
Jens Hoifeldt, a senior here at Ames High, has declared: "I am king of Denmark." And it is true, for this music-engrossed, ukulele prodigy (now guitar), second-semester senior knows one or two things about high school life. Chocolate, woodworking, strolls in the park after dark, and how to pronounce Danish names (like his own)…this is just to say a few, but if there's to be one lesson learned: don't pronounce this guy's name "gens." His name is viking, and he might just be too cool to correct you.
Hoifeldt is involved in symphonic band and another local band called "Mumfords," playing trumpet in both. He takes his inspiration from his half-sister, who is sixteen years older than he. "[In college,] I want to go to into music production or recording," said Hoifeldt, who is thinking of either the University of Iowa or Gustavus Adolphus.
Apart from trumpet, Hoifeldt also plays guitar. "[When I was younger,] my dad had a classical guitar… I tried to play 'Modest Mouse' on it, my hands were too small to fit around the neck, and I bought a ukulele instead," said Hoifeldt.
He owns an electric guitar, which he "loves dearly," he said, and got when he was a freshman. He has also spent six months planning and building a guitar, and although he has enjoyed making his own project, Hoifeldt said, "I have learned I am not a woodworker."
From all his four years at Ames High, he's done some intelligent things, and some unintelligent.
"Satchel and I have been out on walks [in local parks] and it might have been at midnight…" Hoifeldt trailed off. When asked if he had seen spotlights from police officers, he said, "Yeah, multiple times." However, Hoifeldt has a good brain on his shoulders. "One time I went to bed around 10:30," he said.
For prom, which is coming up in April, Hoifeldt has a policy many should think of adopting: [I will go with] whoever says yes," he said. On love, especially in the month of February, he advised not using too much glitter on cards: "on anything, ever-" and even though it is past Valentine's Day, he said, "Chocolate goes on sale the day after [the 14th]."
If anyone knows how to go with the flow and rock your socks off simultaneously, it's Jens Hoifeldt. Why, then, during Mumford's shows does he not take off his shirt like their lead singer Nate so often chooses to? Hoifeldt raised his eyebrows and said, "I prefer to leave a little mystery in the show."
Leave a Comment
Your donation will support the student journalists of Ames High School, and Iowa needs student journalists. Your contribution will allow us to cover our annual website hosting costs.
About the Contributor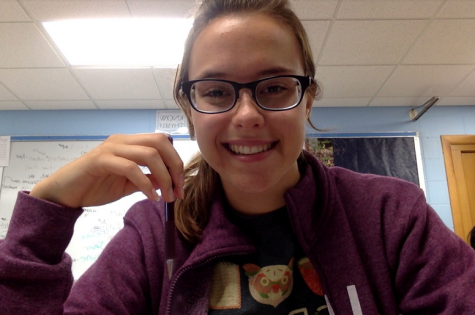 Ella Bartlett, Editor-in-Chief
Ella Bartlett likes to write just about anything that is remotely interesting or strange. She is ecstatic about being Co-editor in Chief with William Fowler,...