Kerry on my wayward Strum
At the height of 5 feet and 3/4th's of an inch, fiery red-head Kerry Strum is a shining star in the sophomore class. When asked how she feels walking down the hall at her less than average height, she promptly responded, "If you mean walking down the halls by being stuck behind giants and trapped between tall people, then I guess it's okay, except that I can't see anything." Born with more than a little sass in her step, Kerry likes to describe her life as a ginger as "snazzy" and "hotter", due to the fact that she has fire on her head.
This past fall, Strum decided to branch out and join the Girl's Cross Country Team. "My brother did it and I thought if he can do it then I can do it, and a bunch of my friends were in it so I was like 'what the heck!'" and she ended up loving the sport. "Everybody's like a huge family and you include everybody and have fun. You can have an awful day then you look forward to practice because everyone instantly cheers you up," said Strum.
In her free time, Strum enjoys playing solitaire, watching TV, sleeping, blogging on Tumblr, and eating, because "food is a magical magical thing". What are her favorite foods? "That's a toughie, I'd have to say enchiladas from El Azteca, or pizza, or any dessert, or pizza, also candy, and sugar," said Strum.
Unfortunately there isn't much free time to spare for Strum. Being a 4.0 student, she spends a lot of her time studying. "I want to go to John's Hopkins University" Strum said. Why? Psychology. "It's ranked really high for psychology" she said of her dream university, where she plans to study to become a psychologist. Always keeping her goals high, Kerry's goals for the rest of the school year include finishing with a 4.0 GPA and to keep being her fabulous self *insert sassy hair flip here*. Fun, fiery, and ready to take on the world, Kerry Strum is definitely a force to reckon with.
Leave a Comment
Your donation will support the student journalists of Ames High School. Your contribution will allow us to purchase equipment and cover our annual website hosting costs.
About the Contributor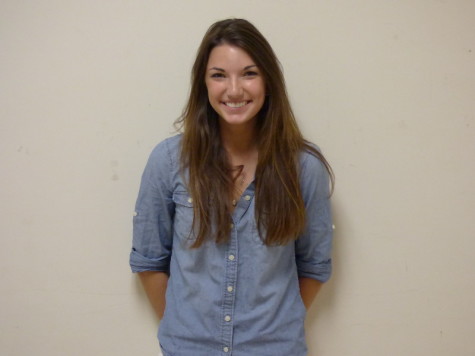 Emma Stewart, Editor In Chief
As a senior at Ames High, Emma Stewart stops at nothing to keep her daily schedule busy for her last year. Sports wise, Emma is involved in Fall Cheerleading,...