His Royal Majesty Siriaco Garcia
Quick facts:
Favorite Mexican restaurant: El Azteca
Believes: that Tupac is alive and well
Life philosophy in 5 words: Easy, breezy, beautiful, Cover Girl.
Legend has it that a great leader will rise up to restore order in the kingdom that resides at 1021 Ames High Drive, Ames, IA, 50010. The legend claims that "he's gotta be sure, and he's gotta be soon, and, most importantly, he must be larger than life itself." The legend continues on to say that his arrival will be heralded by massive riots across the land, as inebriated citizens flip cars and destroy property for no apparent reason. It is clear to all observers that the era of this magnificent ruler is upon us. He goes by "Siri."
Democratically-elected prom king Siriaco Garcia, the grandson of a woman who was "no lie" born in a volcano, has made it his mission to spend the remainder of his time at Ames High creating a beautiful environment for those who walk its halls currently and forever more. Among his celebrated edicts are "don't eat in the media center when Mr. Lunaburg is watching," and "school is for cool people," a rousing declaration that has been met with an outpouring of support from the general populace.
When not ruling the kingdom with an open hand and a benevolent heart, King Siri enjoys drawing masterful compilations that incorporate themes from many facets of his life. These are largely inspired by his family, including younger brother Israel, whose voice has been likened by some to that of a young Morgan Freeman.
The tenderness and care that is required to lead a people is not something that can be learned overnight. It takes much practice.
In order to ensure that he could relate to the women of his domain, King Siri watched the movie "Bridesmaids" starring Kristen Wiig, whom he said is "funny as heck." His administration is expected to release a report detailing exactly how funny one "heck" is within the next month.
Siriaco knows how grimy the rise through the ranks of public office can be. The road to the throne is cluttered with bodies of fallen heroes, legions of forgotten morals, and at least one Illuminati recruiter. To keep his kicks looking the dopest, King Siri has a complex cleaning process that includes detergent, tape, a towel, and a banana. Just one look at the Royal Foot tells you all that you need to know about its effectiveness.
The legend that predicted the arrival of King Siri also predicts his departure. It states that "the leader will leave the land the same way he entered it, with a smile on his face, hope in his eyes, and a dream." After graduation, Siriaco will attend the Creative Center in Omaha to pursue his dreams in art. Although it will be hard to let him go, the entire Ames High populace is excited to see where his dream takes him, and all that he is to become after the final bell rings. Long live the king!
An interview with Siriaco can be found on youtube in the December broadcast of AHS Shout.
Leave a Comment
About the Contributor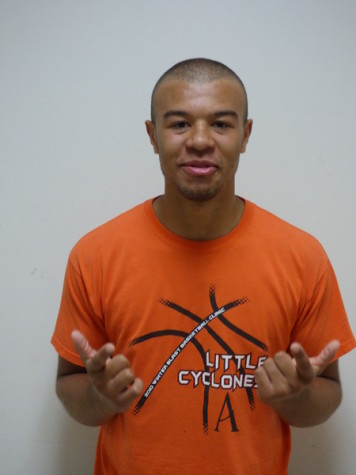 Kub Stevens, Editor in Chief
As a three time returning member of the WEB, Senior Kub Stevens now reigns as the superior Co-Editor in Chief. He spends his free time drowning in a sea...