Tune in to Andrew Weber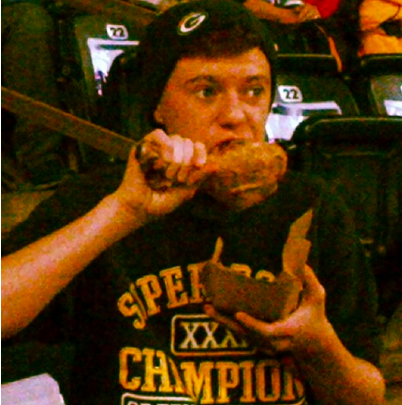 C14, Reporter
November 25, 2014
Roger Ebert. Richard Roeper. André Bazin. And Andrew Weber? The next addition to the Mount Rushmore of film critics may very well be Ames High's own Andrew Weber. A current sophomore and self-made silver screen connoisseur, Weber prides himself on his unmatched cynicism and impeccable taste in Netflix serials.
"Essentially, I hate just about everything that I've ever been exposed to. That makes the few things that I find interesting that much more enjoyable" Andrew asserts.
After writing his dissertation on modern film at the age of 12, he has quickly risen to superstar status in the world of critics. With his specialty in the field of Netflix binge-watching, Andrew has received offers to review flicks for The New Yorker, Chicago-Sun Times, and the acclaimed French publication Cahiers du Cinéma. In light of all this attention, he remains astoundingly humble, even choosing to forego the mainstream route and continue as a freelancer.
"Admittedly, I really don't do a whole lot. I just really enjoy watching Netflix" Weber humbly confesses.
Andrew feels most comfortable spending copious amounts of time locked away in his bedroom with his laptop tuned to Netflix. Some of his choices for binge-watching include the renowned comedy The Office, the periodical medical drama House, and the hilarious spy-drama Chuck. Weber's absolute favorites, though, come with a personal touch. Conjuring up memories of his own time spent stranded on a deserted island, Lost, in his opinion, is right up there with the greatest serials of all time.  After spending several years of his life toiling away on the desolate isle of North Carolina, Andrew moved to Ames just over two years ago. This time spent in the wilderness helped him truly connect to the struggles of Lost's protagonists.
"Living in the complete isolation of North Carolina really helped me to connect to the characters in Lost. I feel a personal relation to each of them, I'd say it's open-ended though. It's complicated" he said.
At Ames High, Andrew finds a home in the band room and classroom. A star pupil and outstanding french hornist, Weber thrives in any endeavor that he pursues. As a future billionaire critic and philanthropist, Weber is quickly learning how to deal with the attention – and hordes of swooning females – that he encounters.