Zoë Hamstreet flippin' down pork-avenue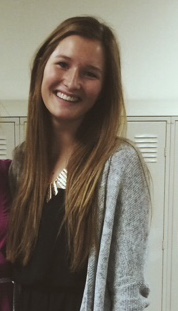 Not many sophomores get to say that they have won two consecutive state championships in the two years they have been in high school, an older brother to support them, and a future ahead of them. But Zoë Hamstreet can.
As a freshman, she tried out for the fall cheer team, not knowing how much she would love it. "After I made the team, I went to an optional practice in the summer. Then Megan Meyn told me to try state, and Sarah Buss asked me about going to the camp," said Hamstreet.
Before she knew it, Hamstreet was a part of the first Ames High cheer team to be back-to-back champions. "It was really exciting just to be a part of that team. We put in a lot of work," said Hamstreet. And now, the state cheer team will be attending nationals in Dallas at the end of January. They will continue to practice the whole month of January and keep working hard until then.
One of Hamstreet's favorite parts of being in cheer was meeting so many more people and especially upperclassmen. "It really helped me through my first year of high school by seeing people I knew in the halls," said Hamstreet.
Hamstreet's older brother, Jackson, also helped with the transition into high school. "When I was a freshman it was nice to see a friendly face, and I get food if he's feeling nice," said Hamstreet. Like most siblings, they have a love-hate relationship. "Half the time I like him a lot and want to tell him everything and the other half I want to punch him in the face," said Hamstreet.
But besides state cheer, Hamstreet has enjoyed football games and the general school spirit at Ames High. As she continues her time at Ames High she wants to take more business classes and get involved in more clubs. "I just want to try something out of my comfort zone," said Hamstreet.
And she did.