Done
February first, 2022. I arrived at school promptly before 7:30. With a few minutes to spare, I scrolled through Instagram. Then my world was rocked. Not figuratively, but literally: my car got hit by a student driver. 
As much as I want to dislike the current school parking lot and join in on the hate, I don't mind it. The seven-minute walk wakes me up in the morning and winds me down after school and track practice. Depending on my spot, I can look out my window to the right and see some couple snuggling, while to the left, there's a car filled with smoke. Thus, it's better to park in the farther lot with fewer people and less traffic. 
2019, I stepped out of my dad's car, slammed the door, and speed-walked into high school overly confident and arrogant, with a Harvard t-shirt underneath my fuchsia Patagonia sweatshirt. Determined to take all Honors and AP classes and get all As. Four years later, my transcript is colorful, and I most certainly didn't apply to Harvard. I would study my transcript every year, watching my GPA rise sluggishly. Today, I'm grateful for the collection of grades I have received over the years. Of course, I strove to obtain all A's, but a B and C didn't break me. I took hard classes and found them challenging. Instead of dropping the class, I accepted the grade I got and was thankful to have taken it.
My style has been modified over the years. I retired the Harvard shirt and Patagonia jacket and moved to leggings, sweatpants, and sweaters. 2021 I got cystic acne, and I stopped caring about my appearance. Acne humbled me for the better. Most high schoolers get acne, yet it's so stigmatized today. I can be a heavily judgemental person, but never on something out of one's control. As for people judging me, I've stopped caring, just as freshman me desired. 
My advice? Take classes you enjoy; try a sport; eat the school food; thank your teachers; challenge yourself; join the WEB. 
Lastly, 
Be kind and don't make a student driver cry.
Leave a Comment
Your donation will support the student journalists of Ames High School. Your contribution will allow us to purchase equipment and cover our annual website hosting costs.
About the Contributor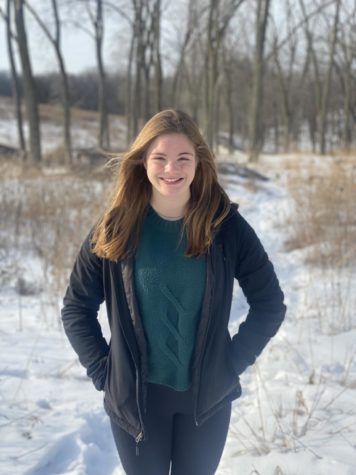 Leola Almquist, Features Editor
Leola is a senior who joined The WEB in early 2021. She spends her days running, biking, and driving around listening to music.