2022-23 Sanctioned Iowa Girls Wrestling Redefines What It Means to be Female on the Mat
In a decision that has redefined what it means to be a female on the mat, the Iowa Girls High School Athletic Union announced on Jan. 12 of last year that Iowa girls wrestling would be sanctioned for the very first time – paving the way for a far more competitive and rewarding female 2022-23 season. 
This season the ruling has altered two main components of girls wrestling: First is a transition from individual meets to dual meets (dual meets center around the team rather than the individual wrestler – for example a wrestler in the 115 pound weight class will wrestle the opposing school's 115 pound wrestler, the 125 the 125, and so on with the winner determined by a cumulative score). Second are qualifying tournaments for a now official state championship tournament, held on February 3-4 of this year.  
For AHS girls, the decision is met with massive enthusiasm.
"I am excited to see where it grows because now there are qualifying tournaments to get into state which will make it harder and I am excited for that. I'm excited for girl's duals," says Leah Stagg '23.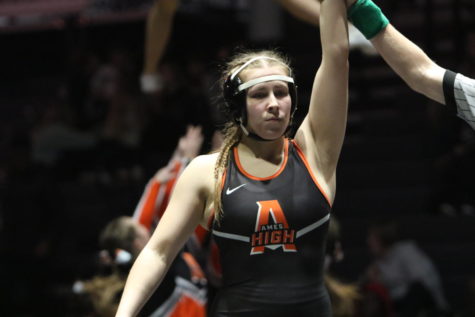 A varsity wrestler, Stagg says her interest began with tagging along at her younger sister's practices, where she eventually fell in love with the sport. This season Stagg placed 1st at Saydel and won her bracket at the Valley regional wrestling tournament. 
The decision to sanction girl's wrestling is a first step in evening a very uneven playing field – both on and off the mat. 
"Referees let a lot of things slide compared to when the boys are wrestling," says Tara Stemsrud, coach of the girl's team. 
Socially, female wrestlers face additional scrutiny for joining a sport requiring so much upper body and hip strength – although this is often what draws female athletes to wrestling. 
"If you're a girl and you say you do wrestling, obviously they'll think you're tough but it's also like – Oh? You're girls? I bet you're really bad at wrestling. Like the stereotype of girls being less is [really common]," explains Stagg.
"[Technique-wise] it's just very different," says Sarah Higgins '26. 
Despite its challenges, the team has accumulated over 50 win records over the season and is set to grow larger in the coming months. 
"We expect excellence," Stemsrud said. 
Although the intensity of wrestling is central to its appeal, Stagg says her favorite part of the sport is "The team."
During competitions, team spirit is nearly as intense as the sport itself. From the sidelines coaches and teammates yell advice to wrestlers mid-match, rising with every victory.
"We thrive off of a crowd," says Stemsrud. 
Leave a Comment
Your donation will support the student journalists of Ames High School, and Iowa needs student journalists. Your contribution will allow us to cover our annual website hosting costs.