Marcus Reecy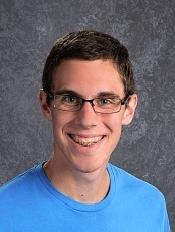 May 28, 1998. A day so glorious, it should be a national holiday. The day one of the greatest men of all, was birthed into existence. Who is this man? Well dear reader, that man is Marcus Reecy.
Marcus James Reecy is a 6' 4" lanky lad here at Ames High School, but that's only a small bit of who he is. He's also a son, brother, athlete, actor, and friend.
Marcus's family has helped shape who he is today, and when asked about them, he said "my parents have taught me to always help a friend out, and to expect nothing in return, do it right the first time, and to always find the brighter side to life, no matter what choices you make."
When not in classes, you can often find Marcus running. He's a part of Track and Cross Country. In fact, what he is looking forward to most this year at AHS is to begin this year's track season. He is excited to begin running again, as well as hanging out with his Track buddies, and training with Mr. Mooney.
After high school, Marcus plans to become an engineer. When pressed on the subject, Marcus replied with "I want to become an engineer because I love problem solving, and being able to create things." At the moment though, Marcus is slowing down and enjoying high school. His favorite subject is Psychology, because of the problem solving and creative thinking he gets to do.
Marcus's favorite book series is Hitch Hiker's Guide To The Galaxy, and his favorite comic book character is Deadpool. He is really looking forward to the new Deadpool movie, because " Deadpool is funny, he's always cracking a joke, and he constantly breaks the fourth wall." Marcus also enjoys watching Doctor Who, and if he could have dinner with 3 guests, he'd choose the 11th Doctor, Captain Jack Sparrow, and Deadpool, because "a conversation with those 3 would be legendary."
So next time you see a tall figure walking speedily through the halls, geeking out about the newest episode of Doctor Who or talking about the latest issue of Batman, take a second glance, because you may be seeing the elusive Marcus Reecy.