Checking in with 2013's seniors
Last year's senior class is still in the memory of many students and teachers at Ames High. Now well into the second half of their very first college semester, The Web thought it would be a good idea to check in with some of the most beloved members of the class of 2013.
Emily Kressee is attending the University of Iowa and majoring in political science. Finding the people to be an "eclectic variety, from homeless to obnoxiously wealthy, those here to get an education and those here because it's the #1 party school." Comparing her freshman colleagues to the people at AHS, she wrote the most notable difference to her was that "the people are consistently more drunk." And, fulfilling her duty to provide wit and wisdom to the masses, her advice to students off to college next year is to appreciate the value of cupcakes and to actually read textbooks.
Operating in a very different atmosphere than the sinful, environmentally friendly milieu of Iowa City is Orion Boyleston, who is attending West Point. Taking a wide variety of classes from boxing to composition to multivariable calculus, he find the experience "challenging, yet rewarding. We really practice ELE (everybody loves everybody) here at the West Point." His most challenging class so far has been African History, and he has gained a great deal personally from working with upperclassmen.
Attending a college that had a sit-in within the last year is Meggie Royer, who attends Macalester College. Alongside a group of people that Royer describes as "tolerant, motivated, passionate, and intellectual," she is having a deeply enriching experience at this highly respected liberal arts institution. Royer is taking a body of classes including Film Analysis/Visual culture and Introduction to Philosophy.
Former Web staffer Josh Newell is finding his way at Western Kentucky University in Bowling Green. Although believing himself to be perfect and has concluded that there was nothing to be changed with freshman self and claims to be "living the dream", his largest irritation (and thus the biggest joke in his life) is the lack of money being given to him by the federal government.  "I'm in the top 6% of students here at Western academically, and I got all of jack squat as help paying for college.  I will graduate with a little over $120,000 worth of student debt.  That's more than my house costs, with interest.  If that's not hilarious, I don't know what is." He is majoring in journalism with a focus on taking pictures.
Leave a Comment
Your donation will support the student journalists of Ames High School, and Iowa needs student journalists. Your contribution will allow us to cover our annual website hosting costs.
About the Contributor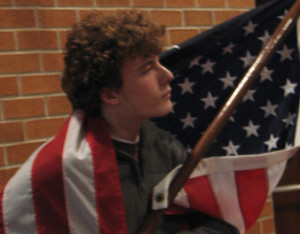 Christopher Jackson, Reporter
Christopher Jackson is a senior at Ames High School. A three-year member of the Web, he writes about student issues and has been compared alongside his...