A Will to Play
Nearly 4 weeks ago on September 7th, students from around the Des Moines metro area gathered at Terrace Hill to raise their voice in protest. This gathering even brought in some of our very own students from Ames High, who pleaded with the district to bring back sports. Now that the school has decided to re-open and sports are back, it may be worth taking a look at why many students are confident this is the right decision. 
For many athletes, it boils down to one basic principle: the want to play. Now, this does not mean athletes are ignoring health and safety guidelines, but simply that they believe they are taking all the precautions necessary to play. Since most teams have been able to play without any issues, most students are confident this trend will stay the same. 
In fact, there appears to have been no major change in the number of athletes this season, despite a third of the school going online. Ling Bai, a junior volleyball player, confirms that she "[hasn't] heard of anyone so far who decided not to play because of Covid-19." 
Senior Caroline Wait describes some of the measures the swimmers have to take which made them feel comfortable with participating this season: 
"We have to wear masks right until we get into the pool, our temperatures are taken, we use both locker rooms, and in the water, we are distanced from each other… I think we took every precaution we could and they were effective. The coaches did such a great job." 
These are quite similar measures to those taken in football, baseball, and volleyball as well. 
However, swimming being a safe sport may be the exception to the rule, as there is way less contact between participants in swimming than in any other sports. Plus, the CDC has maintained there is no evidence of COVID-19 being able to spread through recreational waters, like the Ames High swimming pool. 
This detail does not deter Caroline, however. 
"I would feel safe playing basketball because I did all of this past summer and I just want to play." she reaffirms. "We would take every precaution we could."
There is also a major emotional factor in place for the reprogramming of sports, particularly for seniors. 
 "[People] say you work hard for four years to get to your senior year but the truth for a lot of kids is that it goes way past that," says senior Brady Burkeimer. "A lot of guys on my team played with me in third grade for the Ames Bears. So our final season has been a long time in the making and I don't want it to be taken away."
Ling furthers this sentiment, stating that she and the seniors were "sad [when they learned of the two-week cancellation]… We had just played the senior night game when we heard the news. A lot of us thought this would be the end of the season."
Both Waite and Burkheimer described the cancellation and current restrictions as "heartbreaking", with Burkheimer adding that, "walking across the field on senior night to nobody really hurt and didn't feel right. Looking over and seeing my friends watch from the parking lot… that's not how I expected my senior season to be."
The good news for these athletes is that sports are back on, at least for now. Whatever your opinion on the matter may be, it is clear that this season will be a challenge to all athletes, and as a student body, we should do our best to support our athletes whether they are on or off the field. 
Leave a Comment
Your donation will support the student journalists of Ames High School, and Iowa needs student journalists. Your contribution will allow us to cover our annual website hosting costs.
About the Contributor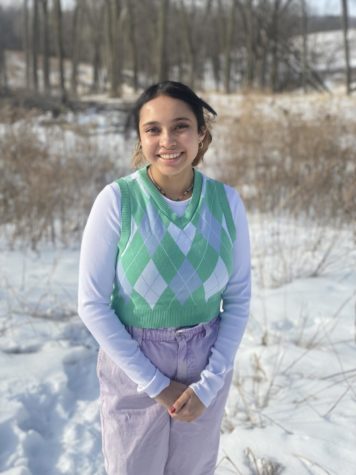 Sophia Cordoba, Editor-in-Chief
Sophia Cordoba is a senior at Ames High, and more importantly, Editor-in-Chief of the Web. Amongst other things, she enjoys keeping up with the news despite...