New Year, New Computers
The Ames High MacBooks, for many years, have been through thick and thin. Traveling from student to student, these computers have seen lots of life. They have satisfied countless assignments, yet recently some have been having issues. Whether it be old age or poor treatment, a decline in function is noticeable. With many various pros and cons in consideration, it was decided in these past few months to toss these worn, hand-me-down machines and make the switch to brand-new Chromebooks. Some students were confused, some happy, and some simply infuriated, but they all wanted answers.
To figure out exactly why this switch was made, I interviewed Mr. Doolittle, a Tech Lead at Ames High, to see what he had to say. 
"Apple stopped making and providing support for the more cost-effective model of MacBook that students currently use. Another reason is that Apple has a warranty policy that states that if you do any of the work on the hardware, you void the warranty. Basically, then, district technicians can't really work on the machines."
This predicament made it seemingly necessary for the students to get new computers. Now that MacBooks were off the table, it was up to the school to decide what other devices will take their place. 
"Chromebooks can be fixed without sending them off," explained Mr. Doolittle. "Additionally, all of the other schools in the district have moved to Chromebooks, so moving to them at the high school creates some consistency at the district level."
With a good reason to switch and more affordable computers in our shopping cart, there were only a few more minor details left to be sorted out. 
"The swap to Chromebooks will mostly be made on the first few days of the second semester. Students will come down with their math classes turn in their MacBook and charger and receive a Chromebook with a new charger," says Mr. Doolittle. "There will also be a drive-up opportunity for remote students."
Putting aside all of these logistics to the switch, it always comes down to the students. Many don't have much experience at all with Chromebooks, except from middle school. The difference with these Chromebooks however is that they are the third-generation compared to the old first-generation Chromebooks used at the middle school.
Mr. Doolittle confidently thinks that, "when students get them in their hands and start working with them, they'll really end up liking them."
Though this switch can be scary, and unexpected for some, it's important we all give the Chromebooks a warm Ames High welcome. And for the MacBooks, though their years at Ames High have come to an end, we all will miss you and appreciate everything you've done for us.
Leave a Comment
Your donation will support the student journalists of Ames High School. Your contribution will allow us to purchase equipment and cover our annual website hosting costs.
About the Contributor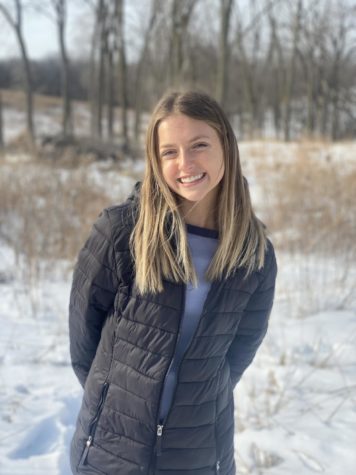 Sofia Mamakos, Editor-in-Chief (Outreach)
Sofia Mamakos is a Senior at Ames High who joined the Web staff in September of 2020. Sofia enjoys being the Senior Drum Major for the Ames High Marching...