Many Ames students have noticed new facilities being constructed outside near the big lot, and surely they have asked themselves what these new facilities are. This school year, students will have access to a newly renovated greenhouse and a garden alongside it.
Last year, when all of the new building's facilities were being constructed, the greenhouse and the garden took a backseat to the new gym, swimming pool, and football field. This year, in a series of other renovations, they will see their restoration. For Ames students, this means that they can get more active with school projects, explore their own interests, grow their own plants, and make a real difference in their community.
The construction of the new gardens dates back to the origins of the native plant project, which began in 2009.
"It started out with realizing that Iowa had a lot of needs. Iowa is nothing like what it was 100 years ago. Most of our native producers are gone, our ecosystems aren't great, there isn't a lot of diversity in them. The biggest environmental change someone can make is planting back our native plants," said Ames High biology teacher Mike Todd.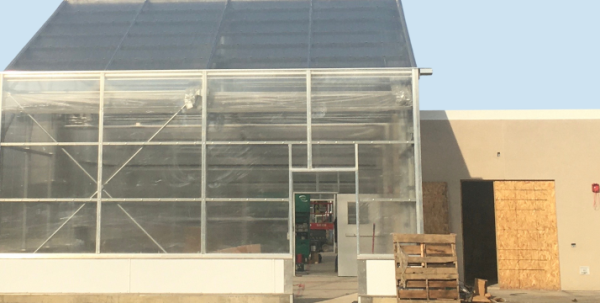 Ever since the beginning of the native plant project, the Garden Club has put in over a thousand pollinator gardens. Many leaders of the Garden Club, according to Todd, have gone on to study horticulture and agriculture.
The gardens, aside from being for the growing back of native plants, are also accessible to students for individual garden work.
Learning something from a book in the abstract is something, but trying to put them into practice is something completely different.
— Mike Todd
"We've made kids grow whatever species of plant they are interested in, figuring out the best conditions and watering, cutting, figuring out the seed; there's a lot of biology in it," continued Todd.
Aside from having a social purpose, it will also be used to help students in biology classes take a more hands-on approach to learning.
"I want kids to do real things and try them. Learning something from a book in the abstract is something, but trying to put them into practice is something completely different," said Todd.
This is not only valuable as an individual skill, but it could also be valuable for the native plant project to have more students on-hand.
The greenhouses, in addition to the gardens, are another renovation for the new building this year. Students may have gone outside to notice them, but they remain a mystery for many. The purpose of these greenhouses is to allow students a more hands-on approach to activities that necessitate a greenhouse.
The greenhouse and by extension the gardens give students an entirely new world of opportunity; it is up to them to treat it responsibly.