You Know The Vibe Already: BBC 1XTRA's The Pressed Podcast with Adeola Patronne, Nella Rose, & Mariam Musa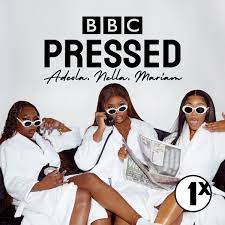 Everyone knows when Adeola, Nella, and Mariam come together, you need to be prepared to laugh out loud. Three notorious best friends and well-known UK influencers, Adeola, Nella, and Mariam have come together to give supporters a podcast of all things that have them "pressed". With the three combined, they raise over 2 million followers across their social media channels, advising on fashion, beauty inspiration, or making combined videos with other friends. 
If you're reading this, you have probably already come across a meme or notorious Tik-Tok audio of Nella Rose that is often time blasted through social media, but many supporters are ready to hear and listen to all of the fun stories and scenarios that have the famous trio PRESSED.
 Nella, who is ultimately known for her infamous Youtube channel where many moments of her videos have been shared through various social media sites, started creating content when she was a little girl. Her content started growing when she created her Youtube channel in 2015. Mariam is also one of the UK influencers who is well known for her youtube as well as her Instagram where she shares fashion, beauty, and makeup advice. Mariam started creating content while she was in university where she was majoring in Media Production. Adeola is also one of the UK influencers who are well known for her presence along with Youtube and Instagram. She first started creating content when she was in university studying Law, when she discovered her passion for creating social media content, allowing her to find her community.  
One unique segment of the Pressed podcast is the "pressed hotline". The Pressed Hotline gives listeners a chance to share some of their pressing experiences, situations that may frustrate them, or simply ask for advice for a chance to have their voice note presented during a Pressed episode. Listeners can share their voice notes by calling an active Whatsapp hotline that connects directly to the influencers. 
Through the three friends, the PRESSED podcast found on Spotify allows listeners to find unique and interesting stories about the many scenarios as well as topics such as being a black woman in today's society, social media & mental health, relationships, embracing our natural hair, as well as many other pressing topics with no filter needed. This trio has done a great job at expressing their experiences to listeners in many unique and different ways. The podcast consists of subjects and experiences that many young black female listeners may relate to. Nella, Adeola, and Mariam have done a great job at finding an expressive way to connect amusing and whimsical experiences to their viewers in an entertaining style.
Leave a Comment
Your donation will support the student journalists of Ames High School. Your contribution will allow us to purchase equipment and cover our annual website hosting costs.