Squid Game: An Extremely Biased Review
              I'm not usually a fan of these hyper futuristic dystopian shows, but something about Netflix's new Squid Game really caught my attention. It could've been the recently built hype over the show on TikTok, or it could've been the preview of the brightly colored stairs and mysterious soldiers dressed in all red. Whatever it was, the show did not disappoint. Through the 9 episodes ranging 32-63 minutes, you are taken through the threshold of innocent children's games and introduced to a whole new world of paying your debts.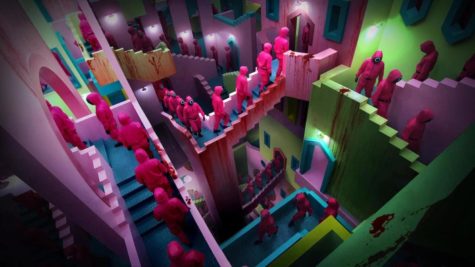 In the first episode of this Korean thriller, you are introduced to 456 "players". Although you don't get the chance to meet many of them, you do have the chance to meet Seong Gi-hun. Gi-hun, as he goes by, is the main character of this avant-garde series. The plot follows him through the 6 challenges in this series. Every challenge in this game is based on popular games that children play. The sinister take on red light green light, or the horrific advancement in tug-of-war is bound to catch you off guard.
         The 456 players were brought to the game for the same reason, to pay their debts. Every single person that was handpicked for this suspicious yearly event owed millions, or billions, of won to someone. And how did they get picked without knowing they were bound for death? Picture this, you're approached by a man in the train station that has an odd proposition for you. He invites you to play a game with him; if you win, you get 1,000 WON, if he wins, he gets to slap you across the face. Seeing as though you are currently in a financial crisis, you play the game. You have nothing to lose but the ounce of dignity you still have, which is not worth losing 1,000 WON.  He continues to win the game, over, and over, and over again. Your face begins to get sore, and you develop some kind of rash or laceration across the right side of your cheek. As he leaves, and you reminisce on your decision to let him assault you, he leaves behind a business card with 3 shapes on it: a circle, triangle, and square. Suspicion, guilt, and fear force you to turn over the card to reveal a phone number. After contemplating the decision, you make the final verdict to call. On the other line, someone says they will send a car for you. The day passes and you go to where the car will pick you up, you get in, then wake up in a cold, concrete room.
Imagining myself in this scenario is anything but the bliss some of the characters make it up to be. Living through these challenges with the fear of dying in the next would be unbearable for me. Ever since I concluded the 9th and final episode, it hasn't seemed to part from my consciousness. Through the challenges, you connect with some of the individuals, whether you want to or not. When that final, and super depressing, episode hits, be sure to have a box of tissues by your side and maybe a pint of your favorite ice cream for some comfort. 
** Major spoilers ahead **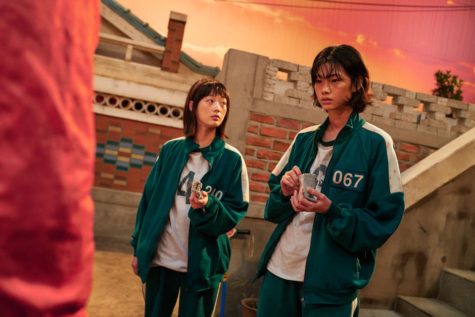 Through the perilous journeys of the six children's games, you find yourself, your childhood best friend, and a girl you met through the game as the final three. You contemplate what you have sacrificed, and what the other 453 players sacrificed so you could be one of the final 3. You become cold, quiet, and subtle with your every move. When the final game, number 6, commences, it is just you and your childhood best friend. Through the challenges you have tried to avoid the obvious that one of you was going to have to die eventually, your fears are finally becoming true. After a violent and bloody fight with the other opponent, you come out victorious after a terrifying selfless act taken by your friend. You won the game.
Watching this show can be far from enjoyable during some scenes. It's easy to want to skip certain games or close your eyes when the gun bangs, but this dread you feel is the price of admission for watching a death game. Although Squid Game can be awfully gory, disturbing, and simply hard to watch, it exemplifies the lengths that the human race will go to for a simple coin. At the end of the day, this show was hard to watch. The deaths were seemingly real, and the blood was far from fake. I would not recommend this show to someone with a weak stomach, but I would recommend it to someone with a desire to find a show that's hard to stop watching.
Overall Rating: 9/10
Leave a Comment
Your donation will support the student journalists of Ames High School, and Iowa needs student journalists. Your contribution will allow us to cover our annual website hosting costs.
About the Contributor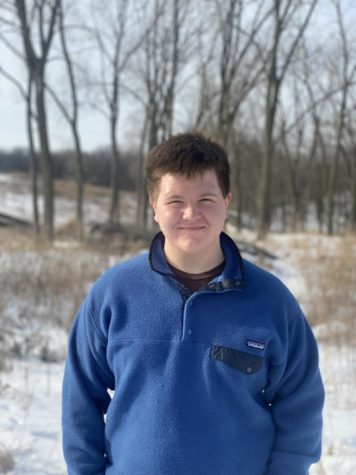 Sam Keenan, Opinion Editor
Sam Keenan is a senior at Ames High and joined the web staff in August of 2021. He spends most of his time working a minimum wage job and wasting away...