Speech Club starts back up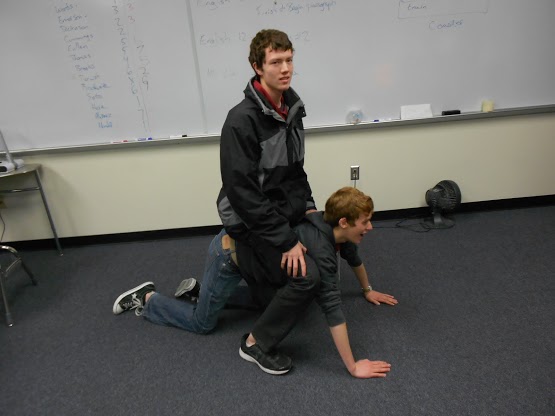 To many, the onset of an annual deep winter chill signals the beginning of the holiday season, but to an increasing number of Ames High students it also marks the start of their favorite activity of the year: Speech Club.
"It's a bit of a misnomer; we don't just give speeches," said senior Paul Opheim. Contestants can choose from a variety of individual and group events, including short film, mime, original oratory, public address, and many more. "I've done group improvisation for three years now," continued Paul Opheim, "We're given a prompt and make up the skit as we go along, trying not to embarrass ourselves too much with our acting."
In recent years, group improv has proven to be one of the most popular events at Ames High. This season, seven different Ames High teams are competing for three coveted slots to represent the school at Districts. With over half the teams slated to be cut, competitiveness between teams is reaching an all time high.
"We've done a lot of practicing, and we definitely have the best team name," said senior Tyler Wessels, a member of Work Improvgress, "so i'm not too worried."
"Sounds like Work Improvgress still needs some work on their improv… gress!" responded senior Jessica Misra, a member of rival team Funny Bunches of Jokes.
Individual events are also remaining popular this year. "I'm doing personal address," said senior Anshuman Dash. "It's basically a test of public speaking. I got all 1's last year, the highest score, and I'm hoping to get all 1's again this year. I'm also hoping to make it to state."
To make it to state, individuals and groups must first make it through district competitions. Large group district competition is taking place on Jan. 26, while individual events have more time to prepare with Districts on March 1. Winners from both events will continue on to State and All-State competitions spread throughout February and March.
"I really hope we can get to State this year, seeing as we've only ever gotten to Districts," added senior Paul Opheim. "It would be a great way to end our run in Speech Club."
Leave a Comment