The Strength of Street Knowledge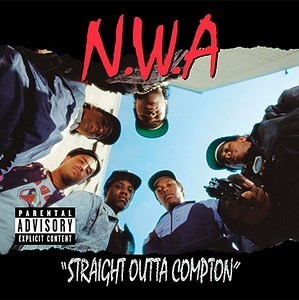 Spoiler alert: Straight Outta Compton is amazing.  Released on the 14th of August over the summer, it quickly became one of the summer's hottest movies.  Raking in a cool $60 million on opening weekend, the movie topped the box offices, and stayed there for the remainder of the summer.
Straight Outta Compton depicts famed rap group NWA in the late 1980s.  Members of the group include Dr. Dre, Ice Cube, Eazy-E, MC Ren, and DJ Yella.  Their rise to fame and fortune are told in this gripping 2 and a half hour film.  
The movie takes place in Compton, California, a suburb of Los Angeles.  Beginning with their life before fame, they introduce the characters. The directors did a fantastic job of showing how their lives changed throughout the film, beginning with Dr. Dre's life as a club DJ, Ice Cube writing some rhymes in a notebook riding his school bus, and Eazy-E making a living on the streets.
The plot itself is fantastic, as would be expected when the movie is based on a true story, as well as true events that occurred in the rap group's lives.  Not only did the plot capture their rise to fame, but it did an excellent job of depicting the social revolution NWA sparked.  Shown in the movie, NWA dealt with a lot of rough times, mainly police brutality and racism.  They voiced their frustrations using their popularity in the music industry by releasing songs such as "F— Tha Police."
It's easy to see why Straight Outta Compton is being called one of the summer's best movies.  Including everything from comedy and success to personal conflict and racial struggle, Straight Outta Compton has a little bit of everything for everyone.  If you haven't seen Straight Outta Compton, do it.  It is by far one of the best movies of the summer.