AHS competitive cheerleaders dominate All-State squad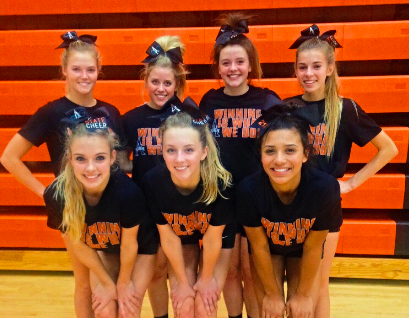 For years, Ames High cheerleaders have proven their talent by taking competition titles like candy. With current back-to-back-to-back State Championship titles, the skill of the State Cheerleading squad here at Ames High is evident. This year, that talent truly shines through a staggering amount of individuals who were accepted onto the 2016 Iowa All-State Cheerleading Squad.
All-State tryouts consist of hundreds of high school cheerleaders who come together from schools all around Iowa, competing restlessly to earn a spot on the All-State squad. This elite squad is comprised of 30 talented girls who have proven their skills via a razor-sharp dance, jump sequences, and tumbling at tryouts. This year, Ames High State Cheerleaders have snatched 7 out of the 30 spots, almost one-fourth of the entire All-State squad, and the most Ames High has ever had on the team at once.  
This is the most amount of girls from one single school on the squad, while the other high schools being represented have at most two girls from the same program who made it through tryouts. The girls who were accepted onto the squad from Ames High come from all different grades.
Freshman Hannah Heindel, Sophomore Macee Buss, Juniors Rylee Gibbs, Sari Brakke, Megan Meyn, and Caroline Farner, and Senior Sarah Friedrich makeup Ames High's All-State cheerleaders for 2016. All of their faces are soon to appear on the walls of the balcony in the gym.  
These girls will later be performing during the televised halftime show of the IHSAA Boy's State Basketball Tournament, where they will come together and present their skills as a whole team. Following the performance, these girls will be given medals for their talent and commitment to the All-State squad.