Tenfrat and the return of girls tennis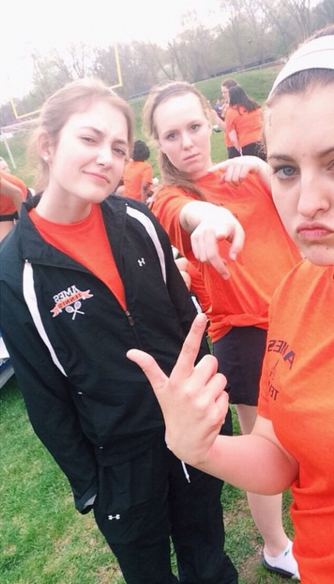 For twenty four girls, spring marks not just a change in the seasons, but a change of pace. As spring break comes to a close, the tennis courts open their gates to prospective girls tennis players. Those privy to the inner workings of the team may be familiar with "Tenfrat", an unofficial, underground organization Tifany Chu and myself created three years ago. When the boys JV soccer team had a fraternity, we decided to spread the love and create a "tennis fraternity". Tifany's brother, Max Chu, who I am convinced is a hologram, was part of that frat, so you could say it's generational. When senior Hannah Schwartz moved to Ames, she commented, "I thought Tenfrat was life… Then I was told I wasn't part of it". Well Hannah, it's not our fault you were on varsity.
Tennis, a highly superior country club sport, has an edge of competitiveness without making competition the sole focus. Junior Emma VanRyswk claims she could be successful at any sport, but chose tennis because of the fun we have. Or possibly the Cafe lunch catering for away meets.  Similar to golf and cross country, an obscene amount of people do this sport for the PE exemption. What really keeps us coming back is the Cafe sandwiches. This year we say a fond farewell to our beloved head coach Luke Boyd, and welcome in Dustin Rhoads and returning assistant coach Taylor Thoen. Our season prospects are as bright as the blinding sunlight on our courts.