A New Netflix Original: 13 Reasons Why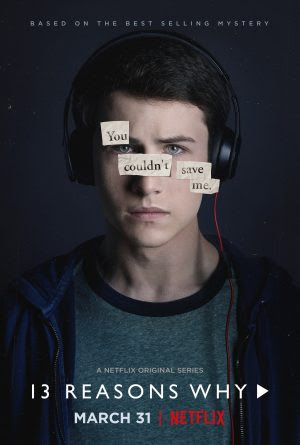 A young girl sits in her English class writing a reflective essay on a book that changed her perspective on life. Five years later, this same girl's perspective is once again shattered when she starts the first episode of the new Netflix TV series 13 Reasons Why.
Who is this girl? Well, that doesn't really matter. That's not what I'm here to talk about. I'm here to talk about the highly anticipated new Netflix series adapted from the novel of the same name by author Jay Asher.
13 Reasons Why follows high school junior Clay Jensen as he listens to the tapes made by his longtime crush Hannah Baker, on the 13 reasons why she decided to commit suicide. Each tape is about a different person who had a hand in her decision.

With most books that become live action, things are different. That surprisingly didn't take away from the story at all. In fact, the changes that were made in the tv show helped to make the characters more than just characters and gave the story a whole new layer of depth that the readers didn't get to see in the book.


There was nothing I did not enjoy about this show. I was continually surprised at the amazing detail that was put into these characters and the story. The actors weren't just playing a role, they became their characters and it was absolutely breathtaking. I loved how much thought was put into each scene from the music choice to the lines the actors spoke, everything was perfect and shot so beautifully.
There were scenes that gave me chills, scenes I wished I could look away from, and times where I wanted to throw my laptop against a wall. 13 Reasons Why is so important because it focuses on issues that we are all too familiar with shying away from. It forces the viewer to deal with the ugly truth about bullying, drugs, rape, and yes, suicide. It's not a happy ending. Hannah deserved so much better than she got and this show teaches you that some mistakes you can't come back from and there isn't always a second chance.

To anyone struggling with depression and may have suicidal thoughts, there are a lot of helpful resources out there for you and so many people are willing to help if you speak up. If you are one of these people, please do not become another statistic. You can go to https://suicidepreventionlifeline.org/ or call their hotline at 1-800-273-8255.
If there is anyone out there who is questioning whether this show is worth their time, you're wrong, it definitely is. This quality show shows how much hard work went into making it, while simultaneously being funny, sweet, and terribly sad. Yes, it is a dark show and it does take you down a scary place. But, I cannot stress enough how beautiful 13 Reasons Why truly is. I promise you, if you give it a chance, it will change your life for the better.