The Battle for the Best Cinnamon Roll
I tried out 4 recipes for a classic cinnamon roll, all claiming to be the best and here are my findings: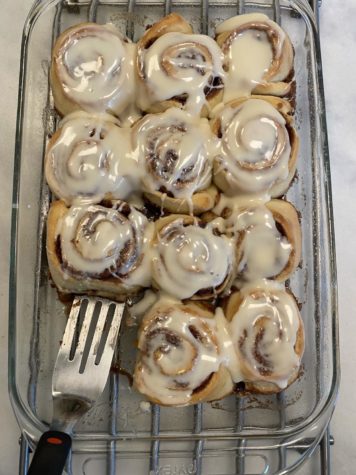 4. 
At the bottom was the one hour cinnamon rolls from Kindly Unspoken. First of all, this recipe took me closer to an hour and a half, which is not bad for a leavened dessert such as cinnamon rolls, but it was advertised as a one hour cinnamon roll, which docks it points. While this recipe was easy, by cutting down the time the dough needs to ferment (rise) you lose a lot of flavor. The recipe tried to counteract this loss of flavor with vanilla extract, but it just didn't work. I also found it really could have used some salt to enhance the flavor. They were soft, a little doughy even. It featured a classic cream cheese icing, which I have found to not pair as well with cinnamon rolls in the experiment. However, if you enjoy cream cheese icing, you would likely enjoy it. These cinnamon rolls were quite visually appealing. Overall, I give it a six out of ten. Link to the recipe here.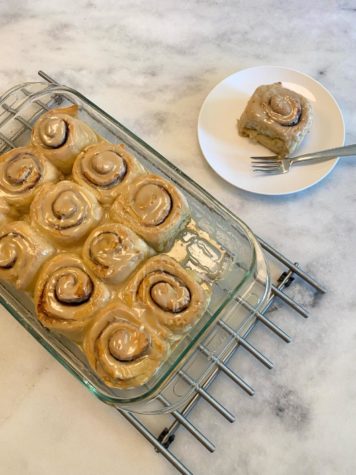 3.
Right above the one hour cinnamon rolls was the vegan cinnamon roll by The Almond Eater. This cinnamon roll claimed to be light and fluffy with a delicious maple glaze. While they were very easy to make, the texture turned out more like a white bread than a fluffy, almost brioche texture that cinnamon rolls should have. It was very basic in flavor, which was not necessarily bad, but a bit boring. The maple glaze was tasty and had a perfect amount of maple flavor, but the recipe made a lot for the amount of cinnamon rolls, which resulted in it being too sweet. For these reasons, I give it a six and a half out of ten. Link to the recipe here.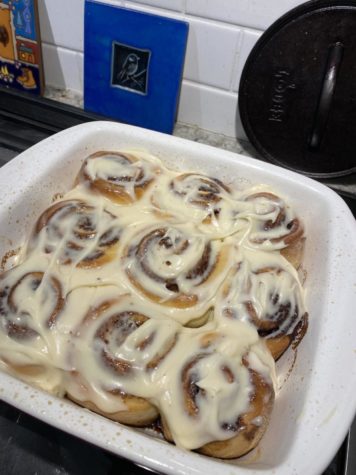 2.
In second place, at a nine out of ten, were the cinnamon rolls from @its.ChloeH on Tiktok. Just like the claims, these cinnamon rolls were very light and fluffy, with a perfect punch of cinnamon and not too sweet. The dough started with a tangzhong, a paste of flour and some sort of liquid, typically milk or water, cooked together on the stove top to create a gelatinous mixture. It is then added to the rest of the dough ingredients. Using a tangzhong will create a softer and more tender dough, also helping it rise more and become fluffy. The easy to work with dough made these cinnamon rolls turn out picture perfect. I, however, wasn't personally a fan of the cream cheese frosting. These cinnamon rolls were amazing, but not quite the winner. Link to the recipe here.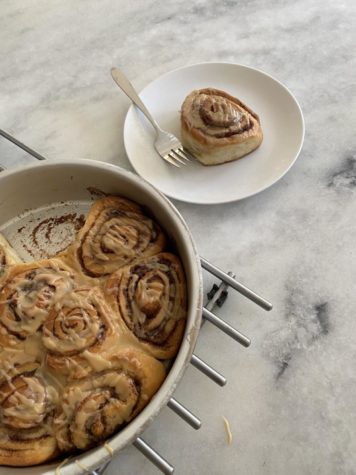 1.
At the top, was cinnamon roll recipe Saving Dessert adapted from the famous Pioneer Woman's recipe. These cinnamon rolls were perfectly soft and fluffy with a crispy outside created from the healthy amount of butter used on the pan, as well as in between the layers of the roll. While these took the most overall time, the amount of hands-on time was just the same as the others. The biggest difference was that the dough was fermented slowly in the fridge overnight. The flavors had more time to develop and it was obvious by tasting it. The maple glaze also included the addition of coffee, which added another layer of flavor onto the already complex cinnamon rolls. The only issue I had with this recipe, was that it made a lot of smaller cinnamon rolls, which made it a bit difficult to cut and it wasn't as visually appealing. I tried making these cinnamon rolls again, this time making 24 instead of 30 by rolling the dough out into a smaller rectangle, and they turned out perfect. I give these stunning cinnamon rolls a nine and a half out of ten. Link to the recipe here.
View Comments(1)
Your donation will support the student journalists of Ames High School, and Iowa needs student journalists. Your contribution will allow us to cover our annual website hosting costs.
About the Contributor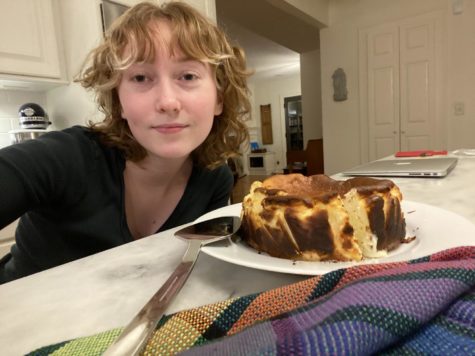 Elaina Johnson, Reviews Editor
Elaina has been part of the WEB since August of 2022. She enjoys spending her time cooking for herself or her family and hanging out with her babies, her...