Finals: end of the semester or end of our lives?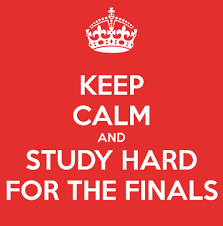 When you think of the most stressful thing in high school what's the first thing that pops in your head? Maybe homework, friends, getting enough sleep, etc. But for many, the most mortifyingly stressful thing in high school is finals. For freshman, finals may be a new, and intimidating subject. They take up about a week of a semester, testing you on your comprehension of all your classes during the weeks before.
Thankfully, some finals are less stressful than others. The ones you don't have to study for as much, or at all, because your understanding is pretty impeccable as it is. And you're really thankful for those said finals because then over break you can study for your other finals.
I was subtly reminded of finals when my mom forwarded me this years schedule. This year, we must go to every period we have a class unless it is a study hall, PE, or lab periods. We are also going Thursday the 17th, Friday the 18th, and Monday the 21st.
Well, not this year. This year we're having finals before instead of after break, which has its pros and cons. Pros being that you don't have to worry about studying over break and focus on relaxing and enjoying the traveling, the friends, and the family you'll be around for the holidays. I mean really, would you rather be studying for that physics test or digging into that apple pie? Yeah, that's what I thought.
Yes, this year you are required to be in every period, even if you don't have a final. The cons I'm looking at, are the fact that the way we are doing finals this semester lead us to three 1 ½ hour periods a day. As opposed to last year when, say you didn't have a final second, but you did third, you could use your second period and the hour long lunch period to study and prepare yourself for the next test. Which, is also a good way to mentally prepare yourself for the next anxiety inducing test. Another component of this new way of finals, we have our last day of finals after a weekend break. Will this help you be better prepared, or catch you out of your element? Or, will you be gone the 21st, traveling for the holidays?
Although, one final pro being that they count as school days, so we end up getting out of the school year as fast as we can. But the question here is, is it worth it? Is all the stress and nerve racking anxiety worth a couple extra days in the summer?