Sam Johnson: Ames High's (Irish) Dancing Queen
Precision. Fluidity. Large hair. The mysteries and secrets of Irish dancing are held within unassuming senior Sam Johnson. Already an accomplished and active student, you could find Sam planning Dance Marathon or showing off her skills on the swim team. After school, her dedication to a surprising skill takes the spotlight. 
Certain characteristics define the typical Irish dancer: stiff arms, extravagant outfits, and fast-moving feet create movement that looks far removed from other types of dancing. There's a fluidity to a dancers movement as their still upper body is contrasted by the rapid precision of the lower body.
Different types of dance and music can be seen throughout competitions, where dancers compete against one another. Sam's favorite type of Irish dances are called set dances, known for complex rhythms and funky names. "I did one two years ago called 'Drunken Sailor,' really weird," said Sam.
Her dedication to the sport hasn't gone unrewarded. Last year, she was recalled for the North American Irish Dance Championships, one of the highest levels of Irish dancing. "It has people from North America, [ . . . ] Australia, and Europe," Sam said, "That's my proudest achievement."
Starting at the age of five, Sam has always been dedicated to the sport. She's been encouraged by her mother, a long-time dancer herself. "She's like just someone I aspire to be. She's honest and truthful," said Sam.
Sam's dedication hasn't come without its challenges. Over her years practicing, she's learned to make the best use of her time, learning from home away from her dance studio in Chicago. "I put a lot of pressure on myself and a lot of situations in school and dance and I feel like I'm getting better at letting myself make mistakes and accept them," said Sam.
Even with all the dancing and after school activities, she still finds time to relax. In her downtime, Sam finds comfort in watching Netflix crime documentaries, as well as hanging out with her dogs. 
Currently, Sam is looking forward to college, hoping to attend the University of Iowa or the University of Wisconsin-Madison. Although she is currently undecided in her major, Sam has been eyeing political science.
"There's always politics in [Irish dancing]," said Sam, "so I always try to do better than what I did yesterday. [ . . . ] Even outside of Irish dancing, I feel like I'm doing something better for myself."
Leave a Comment
Your donation will support the student journalists of Ames High School. Your contribution will allow us to purchase equipment and cover our annual website hosting costs.
About the Contributor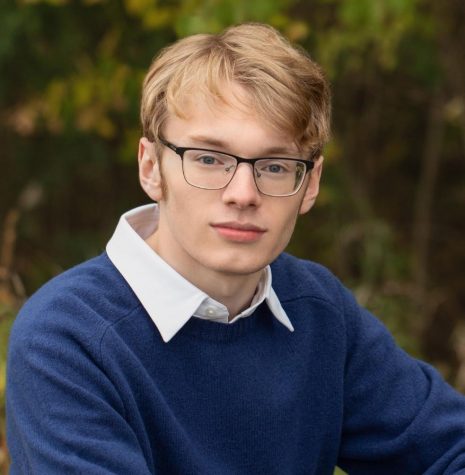 Erik Nelson, Editor
We intend to begin on the first of February unrestricted submarine warfare. We shall endeavor in spite of this to keep the United States of America neutral....