Madeline Topf: What stories lie within the walls of Ames High?
For decades The Web has been the glue that holds Ames High together. All controversies captured in an electronic time machine, 2 clicks away at all times. However, one might question, how did these stories come to be? The answer lies in a long-lasting line of journalistic geniuses who toiled to bring our beloved newspaper to where it is today. 
If you've ever been into room 202, you may have noticed the colorful bricks on the right-hand side. Though most don't give them a second thought, curious onlookers will notice names upon the wall. These names, dating back to the 1980s, all hold a special place in the history of The Web. Students who created traditions, inspired generations, and told stories of, by, and for Ames High School.
As many know, Ames High will be moving to a brand new building. The future for the old school looks grim. By this time next year the ground we walk on will merely be a junkyard of crumbled rock. The memories made on this land, however, will live on forever. These bricks offering a rare glimpse into Ames High's past will not be forgotten. 
But what are these stories that should not be forgotten?
Who are these people that painted over our walls?
Where are they now?
Madeline Topf. Does that name sound familiar? To many of you the answer is no, but too few who are familiar with the painted bricks on Mr. Johnson's wall, it might ring a bell. Madeline's brick, midnight blue with the words "Maddie said" in bold letters, is a newer brick, created in 2014, right before she graduated high school.
I got a hold of Madeline via email and she was more than eager to share her high school experiences with me.
"Before I joined the staff of the WEB, I remember going into the Web newspaper room to print something. I saw the staff hanging out, writing, chatting, joking, and I thought "this is where I need to be."'
Everyone has something that gets them excited about school. For some it's sports, seeing friends, or learning new things, but for Madeline, it was writing for The Web.
 "I would eat lunch there every day. We worked on articles, we did homework, and we just hung out. I made some lifelong friends through the WEB."
Not only did she enjoy writing for The Web, but she also learned some pretty valuable lessons in the process.
"I remember Mr. Johnson teaching us about free speech and about the rights we had as a publication. That was very valuable. It was valuable to see the tension between the administration and our publication that was not necessarily free – it was interesting to see what they would allow and wouldn't."
After Madeline graduated, went to undergrad at Carleton College and was the senior captain for the soccer team there. She then worked in a microbiology lab at Stanford for two years. She took what she learned writing for The Web and went on to create a newsletter and publish a paper about fermented foods and the gut microbiota.
With all her experiences, she had plenty of good tips to offer to the average young, naive high school student. 
"Join a marching band. Do a weird club or activity or join a sport you've never played before. You'll meet people. Read the books in your English classes. Go to a small liberal arts school for college. Play a D3 sport (This advice is biased). Stay in touch with your high school friends."
Specifically for people interested in journalism, Madeline says,
"There's a lot to write about. Don't shy away from anything controversial  — think and question what is going on. Practice writing by writing good articles for the WEB."
For generations, Madeline and many other writers like her have impacted the world with their stories. Take this advice to create new change. Be a part of something bigger than yourself.
Maybe join the WEB 🙂
Madeline's Newsletter:
The paper Madeline published:
https://med.stanford.edu/news/all-news/2021/07/fermented-food-diet-increases-microbiome-diversity-lowers-inflammation.
View Comments (2)
Your donation will support the student journalists of Ames High School. Your contribution will allow us to purchase equipment and cover our annual website hosting costs.
About the Contributor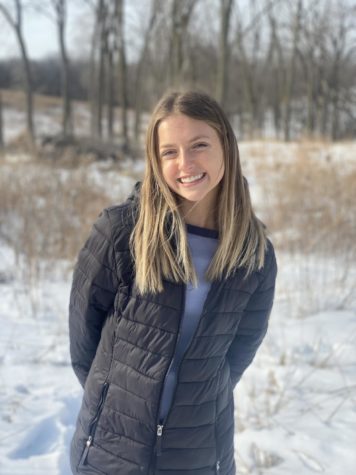 Sofia Mamakos, Editor-in-Chief (Outreach)
Sofia Mamakos is a Senior at Ames High who joined the Web staff in September of 2020. Sofia enjoys being the Senior Drum Major for the Ames High Marching...