No Loss in Lacrosse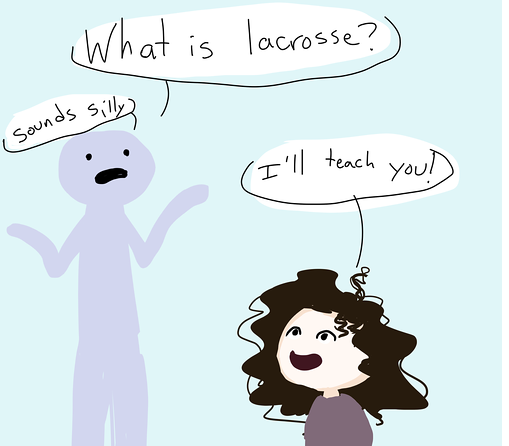 If one were to visit Inis Grove on a weekday afternoon, they would likely see a group of 5-10 high schoolers scurrying around in an attire of orange and black helmets. They will have netted sticks in hand and will all be rushing to the same destination. The goal net.
This enthusiastic group of athletes is the Ames High Lacrosse team. This team was formed in 2015 when a group of young men, hungry to play the game of Lacrosse, began a journey in pursuit of the sport.
At the time, there had been no such team in Ames. The closest Lacrosse team had been in Ankeny, Iowa. Frustrated by the forty-minute drive that came along with this, the group hosted a meeting to gather those who were interested and the lacrosse team had been fomented.
The game of Lacrosse itself involves ten players on the field at a given time including the goalie. It is required for there to be three players on each side and there are deductions given for slashing, going in the "goalie's crease" (which is an area surrounding the goal net) and unsportsmanlike actions.
 "Lacrosse to me is more than a sport. I look at lacrosse as a really fun game that is intense, hard and requires a lot of skill which is really fun because you have to keep working to get better," said sophomore Michael Ylonen.
 Kevin Maxwell (another Sophomore in addition to a club-founder) claims that he enjoys "the flow" and quick reaction time required for Lacrosse.
A typical Lacrosse practice includes warmups such as throwing the ball around and then scrimmages between team members.
Currently, the Lacrosse team is holding practices four times a week to prepare for official games and tournaments that will begin in March.
Maxwell said that there are two uniform designs. One design with short sleeves in addition to one design with no sleeves.