Big Events in DECA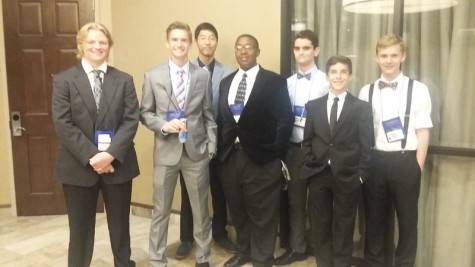 DECA has some big events coming up for DECA month. But before I talk about those events, I bet many of you are wondering what DECA is.
"DECA provides students the opportunity to develop and improve on their leadership and business skills through social events, community service, leadership experience, and competitive events." Mrs. Hales stated.
Each year brings new goals for DECA.
"In my first year as DECA Advisor for Ames High, my goal is to increase awareness. This is such an awesome club and opportunity for so many students, but they are just simply unaware of what we do and how DECA can help them." Mrs. Hales said.
"I'd encourage anyone who is even just slightly curious to come to a meeting and see what it's all about. Or better yet, come talk to me or one of our officers. We can answer any questions you may have! This is the perfect time to be a part of something EPIC!" Mrs. Hales added.
Along with those goals comes new experiences for each DECA member.
"The ultimate DECA experience allows you to plan and organize events for students and the community, takes you to conferences and events around the U.S., and increases your network of peers and professionals with those you meet and collaborate with." Mrs. Hales stated.
"The conferences are a blast, taking us to Des Moines, Kansas City, and hopefully Nashville later this school year. We will learn a lot about various leadership skills, find out what types of things are important to know while entering the next stage in life, and get tips and tricks to be highly successful in the competitive events." Mrs. Hales added.
DECA has 3 fundraising events coming up in the month of November. One of those events is the minute to win it event.
"The minute to win it fundraiser is an event that will be held by DECA this month and students will come into Mrs. Hales room to buy tickets for $1." DECA Co-president Toby Linder said. The event will take place December 10th and 11th in the media center.
"I'm excited about the Minute To Win It fundraiser because I want to see how good Ames High is at our challenges pressured by time and the amazing prizes that will be given out if they succeed their challenge." Linder stated.
Finally, DECA will be having a Can drive all of next week.
"We will collect canned food and non-perishable food items to donate to Food at First, a nonprofit that prepares and serves meals to Ames' financially and nutritionally struggling citizens. They hold their Thanksgiving meal a week later so all the new supplies would help them tremendously." Co-President Tavan Shahidi stated.
Co-President Toby Linder summed up DECA in one word that fits perfectly- Sick.