Fantastic Beasts and Where to Find Them
Hang on for a minute...we're trying to find some more stories you might like.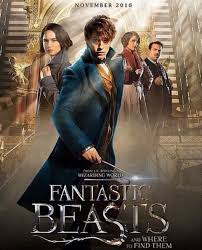 "Fantastic Beasts and Where to Find Them is a solid Harry Potter series movie but often prioritizes setup over memorable drama or spellbinding action."
-Ben Kendrick (Screen Rant)
"As promised, the title critters in Fantastic Beasts are whimsically entertaining and occasionally as entrancing as those animals crawling through a medieval illuminated manuscript."
-Manohla Dangis (New York Times)
"With the debut of this new character, Redmayne has a tall order: make himself not just lovable, in two hours, but indispensible. There are already four "Beasts" sequels planned."
-Michael O'Sullivan (Washington Post)
"The picture—directed by David Yates, who also gave us the last four Harry Potter films—feels both sprawling and crowded, as if it were trying to pack too much mythology into one cramped crawlspace."
-Stephanie Zacharek (Time Magazine)
In New York City in the early 1900s (after World War I) the Magical Congress of the United States of America (MACUSA) is on a mission to protect witches instead having them be harmed by regular people. They believe that they are being targeted for extinction by Mary Lou Barebone, a non-magical woman who heads the New Salem Philanthropic Society, which claims that witches and wizards are real and dangerous.
Newt Scamander is the main character of this story. As the movie goes on we get to know Newt. He is a kind-hearted gentlemen who saves endangered creatures. However those creatures almost make the lives of the witches a living hell when they escape from Newts' magical suitcase when Newt gets his bag mixed up with a baker Jacob Kowalski at a bank and the creatures become free in New York City.
Overall I give this movie a 7 out of 10. I give Fantastic Beasts and Where to Find Them this rating because I felt the movie at the beginning was very confusing, as a matter of fact I had to go back and rewatch the first 20 minutes of the film to understand what was happening. The other big reason I give this movie that rating is because I felt that the movie had too much mythology and not enough action scenes. I also am generally not a fan of most movies like this (excluding the Harry Potter series), so that could be contributing to my rating.
It's not a terrible movie to watch by any stretch of the imagination, but this movie just isn't for me.