Staff retirement: Diane Larson: Retiring and leaving a legacy behind
To do what one loves and to do it with longevity and vitality are both things many strive for in a happy life. At the age of 15, 16, or 17, high schoolers may not think of this very often, but real success isn't measured in the amount of zeros after an income statement–it's measured in satisfaction of how your hours have been spent, and retiring special-ed teacher Diane Larson is pure proof of this.
Larson has been in the school district for 42 years, and she's been teaching special needs students for 46. She works with students, all who come with their own challenges, opportunities, and moments of happiness.
"Every day, something new and different happens," Larson said. "You get to know the individual, you get to work with the parents– just learning what the kids like and don't like."
She has always known she has wanted to work with kids. A graduate of Ames High School, Larson continued at ISU and received a masters from Drake. When she came back to Ames to teach, she originally was located at Wilson Beardshear. Then she and her students moved to this building we know as Ames High now.
"At that time we moved, we were a segregated [special ed and regular ed] school," Larson said. "The state was saying that we were going to have our special needs kids out in the integrated buildings with their age appropriate peers."
Larson emphasized how important it is for the students to be in the same environment as the regular ed kids. "[They are] accepting and responsive to the [special ed] kids, greet them in the hallways." We might not think very much of a simple smile to a student who we work with in pep PE, but the small gestures really matters.
"Going down the hall, one young lady said to one of the kids 'hey, how are you,' called them by name. Our kids lighten up and when you're in the hallways and they're crowded," Larson said. She gets a lot of her inspiration from the kids here, and these students have fulfilled her, otherwise she wouldn't have enjoyed her time at Ames High so much.
Many of her favorite moments of her teaching career are the small things. Larson said, "[I enjoy] when you see a spark in somebody's eye when they've mastered something, even the littlest thing."
Larson said, "The time has just flown."
Leave a Comment
Your donation will support the student journalists of Ames High School, and Iowa needs student journalists. Your contribution will allow us to cover our annual website hosting costs.
About the Contributor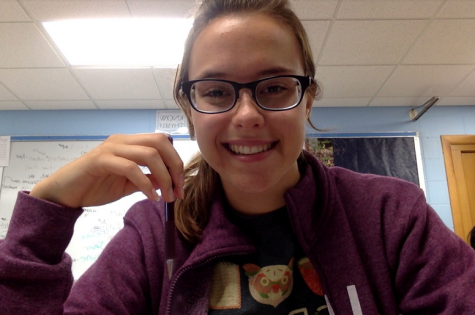 Ella Bartlett, Editor-in-Chief
Ella Bartlett likes to write just about anything that is remotely interesting or strange. She is ecstatic about being Co-editor in Chief with William Fowler,...