Ling Sting
"You know, swagginess starts from kindness. That's what I like to say." 
Our queen, Ling Bai. Homecoming queen was awarded to the right person this year. Ling is genuinely genuine. You've likely seen her in the halls, at volleyball games, in the band, smiling. As a prominent senior in this school, Ling's made a positive mark on the Ames community and her academics these past years. 
"I guess I don't really feel anything that much different from being a senior. The only thing I really think about is, like, the last things I do. […] So yeah, it's a little sad, but honestly, I'm excited to move on to bigger, better things."
Ling has always been a strong student that piles on her classes. However, she maintains a kind and humble composure. When out of class, Ling typically hangs out with her friends, Mr. Gorman, and Mrs. Schieffer. 
"I said during homecoming that who I looked up to was Josh Gorman and Nikki Schieffer. I think I just chose them because they're two people who you can tell they like what they do, and they're really passionate about it, but they're also just so well loved. You know, they're people who just have that personality, and they're people who you can come to and just talk to them about anything and just joke around."
10th grade Ling and I were both sleep-deprived APUSH students. Unlike myself, Ling was always napping at home. To those current stressed students: take some naps and catch up on sleep like Ling. Ling advises the underclassman to "get your homework done, go to bed early, try new things." Basic things that we often neglect. 
Next year, Ames High's Homecoming Queen will be awarded to someone else, but Ling will forever be our queen. Ling has made Ames High a little swaggier and kinder. Her future is full. 
"I feel like everyone is always thinking about a couple different things. They have them on rotation. But it's just like, whatever you land on your senior year, that's what you go to college for. So I've landed on nursing, but we'll see how that goes. I think I would be a pediatric nurse. Just work with some kids, have some fun, nothing too serious." 
View Comments (1)
Your donation will support the student journalists of Ames High School. Your contribution will allow us to purchase equipment and cover our annual website hosting costs.
About the Contributor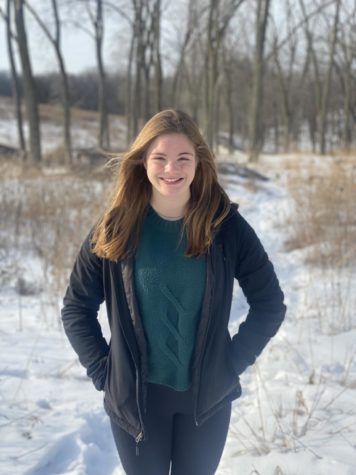 Leola Almquist, Features Editor
Leola is a senior who joined The WEB in early 2021. She spends her days running, biking, and driving around listening to music.