Why the NCAA is corrupt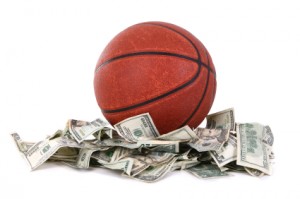 The NCAA has a problem, itself. The so-called "non-profit" organization racked up 1.2 billion dollars last year. Some believe the NCAA is corrupt, including NBA superstar LeBron James. "I don't know if there's any fixing the NCAA. I don't think there is."
On October 22nd, 2014 an article published by CBS Sports writer Jon Solomon, reported that the US Justice System had found out that North Carolina University had created fake classes in order to keep their athletes eligible. The report by Kenneth Wainstein, a former top US Justice Department official, found that North Carolina athletes made up 47.4 percent of the more than 3,100 students who took the "paper" African-American Studies classes during the 18-year period of the scheme. North Carolina athletes comprise 4 percent of the university student body. "A good number of the athletes were "steered" to the paper classes by certain academic counselors in North Carolina's athletic department." The report said.
In the fall of 2017, the NCAA ruled that there was no wrongdoing despite the fact that journalist and even the US Justice Department found evidence wrong-doing that falls under the NCAA's code of conduct. All players that were listed in those reports, were not reprimanded and remained eligible. They didn't have to miss any time in their sport.
Isaiah Brock, a US Army veteran, and an Oakland University basketball player did not get lucky like the players at North Carolina did. Isaiah Brock did not have good grades in high school and decided to join the Army after he graduated from high school. However, he did do well on his ACT and he did well in summer classes that he took while serving in Kuwait. Still, the NCAA did not clear him to play because of his grades in high school and in the process they completely ignored the work he did and the knowledge he gained while serving our country overseas in Kuwait. This was met with heavy criticism by major names in the college basketball coverage industry, such as CBS Sports journalist Gary Parrish and Matt Norlander calling the ruling "absolutely ridiculous." The timing is of some interest here because this was taking place around the same time that the NCAA was looking into what happened at North Carolina. A month after the NCAA's ruling, Oakland won their appeal and Brock was cleared to play.
In 2017, another Oakland University basketball player got caught in a tough situation with the NCAA. Senior Jalen Hayes was suspended for four games in December because he "failed to make satisfactory progress towards a degree." What makes this case extremely interesting is the fact that Hayes was on pace to graduate and did graduate in December. Once again this happened the same time that the NCAA ruled in the North Carolina academic scandal.
The NCAA has been in hot water in the past year, that has overshadowed the magical moments of this year. On September 26th, 2017, 10 men, including 4 former college basketball assistant coaches were charged with fraud and corruption.
Those coaches include Auburn's Chuck Person, Oklahoma State's Lamont Evans, Arizona's Emanuel Richardson, and USC's Tony Bland. All four coaches were fired upon the investigation. The other 6 men were, James Gatto, director of global sports marketing for Adidas; Merl Code, another Adidas employee; Christian Dawkins, a former NBA agent who was recently fired from ASM Sports; Munish Sood, a financial adviser; Jonathan Brad Augustine, president of The League Initiative and program director of the Adidas-sponsored 1 Family AAU program; and Rashan Michel, a former NBA official who founded Thompson Bespoke Clothing, a custom clothier for athletes.
Since then, things have only gotten worse for the NCAA, as now over 20 schools have been caught in the FBI probe. Some of those schools are very prominent schools, including Duke, Michigan State, and Arizona.
In late February leaked federal documents that contained a list of high profile schools and players that could now be in serious danger of having major consequence for their athletic department. According to a Yahoo Sports report, "The documents tie some of the biggest names and programs in the sport to activity that appears to violate the NCAA's amateurism rules. This could end up casting a pall over the NCAA tournament because of eligibility issues. There's potential impermissible benefits and preferential treatment for players and families of players at Duke, North Carolina, Texas, Kentucky, Michigan State, USC, Alabama and a host of other schools. The documents link some of the sport's biggest current stars – Michigan State's Miles Bridges, Alabama's Collin Sexton and Duke's Wendell Carter – to specific potential extra benefits for either the athletes or their family members. The amounts tied to players in the case range from basic meals to tens of thousands of dollars."
When asked about the report the NCAA President Mark Emmert said "These allegations, if true, point to systematic failures that must be fixed and fixed now if we want college sports in America. Simply put, people who engage in this kind of behavior have no place in college sports. They are an affront to all those who play by the rules. . .The Board and I are completely committed to making transformational changes to the game and ensuring all involved in college basketball do so with integrity. We also will continue to cooperate with the efforts of federal prosecutors to identify and punish the unscrupulous parties seeking to exploit the system through criminal acts."
Basically, the NCAA has loopholes and only influences the rules we ever they want to, even if some schools go unpunished for their crimes. There are many ways that have been suggested to fix this problem. Some suggest letting the players be drafted straight out of the high schools and go to the pros, some suggest paying the players, and some suggest that the NCAA should fix itself and should become more consistent.
This is not a simple thing to fix for the NCAA because if they truly want to keep academics as priority, then they need to enforce the rules that they have in place consistently. If they continue to ignore the issues that they are not only ruining the game but they are also ruining their reputation and are potentially risking the integrity of college sports.