FAN of Winter Cheer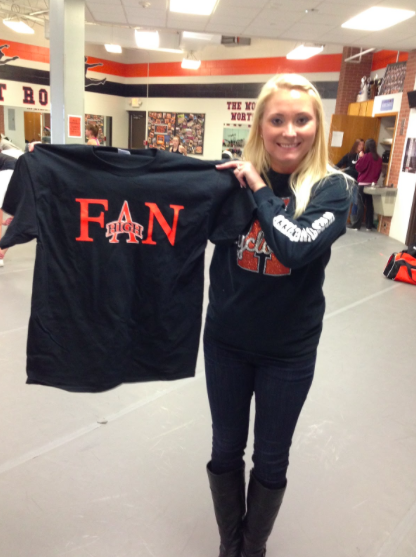 With a new season of winter sports comes updates and new ideas. One of these that has already been taken into action is the throwing of FAN t-shirts. The shirts feature the word "FAN" with the Ames High logo on the "A" on the front. The backs of the shirts say, "Ames High Aims High".
These shirts can be caught at all home varsity basketball events, specifically ones with large student crowds. Anywhere from 2 to 8 shirts are thrown, to various sections of the students. The larger the crowd, the more shirts thrown.
One of the most unique things about these shirts is the message that comes with. Each shirt that is thrown has an orange notecard attached to it that reads a rhyme that explains this: if you yell with the cheerleaders, you will be rewarded. Varsity cheer coach, Dana Logan, distributes the candy to fans who wear the shirts or cheer with the cheerleaders.
"When I was in high school there was a lot more excitement in fans and I wanted to bring that back and give fans incentives for cheering," said Coach Logan.
Games are not the only place the shirts can be picked up. Winter cheer plans on selling the shirts for around $10, for students who aren't lucky enough to catch them. The shirts that you can buy come with the same notecard and have the same graphics on the front and back. They also come with the same benefits- free candy for the year as long as you're cheering.
"I think it's a good way to get people more involved, and it adds to the atmosphere of the game," said senior, Katie Sailer. The excitement with the fans is clear, and this new idea gives fans something more to look forward to at games while encouraging students to cheer along with the cheerleaders.
"Basketball doesn't always get much support and I think it's a great idea to encourage crowd involvement at the games," said varsity winter cheerleader, Grace Mills. The cheerleaders are in agreement that the shirts will most likely be successful and popular with the student section.