Meals from the heartland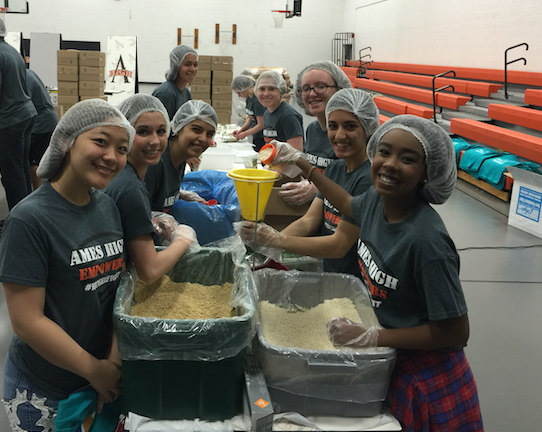 On April 13, Ames High School made history with its first food packaging event. Over 140 students from various clubs such as National Honor Society, Key Club, DECA, SHEPH, and FCA participated, packaging exactly 40,176 meals in less than five hours. Based on the statistics, the event appears to be a huge success with no worries. But, the event actually took two years of slow and consistent efforts to fundraise and initiate.
With each meal costing 20 cents, consisting of a plastic bag filled with a vitamin packet, veggies, soy beans, and rice, students had to go door-to-door and ask local businesses for donations. Students also designed t-shirts with the mantra "Ames High Empowers" and the hashtag #AHSHUNGERFIGHT to raise money by having the participating students pay ten dollars for the t-shirt with all proceeds going to the food packaging event. Mrs. Schmaltz, the adult sponsor and coordinator of the National Honor Society also mentioned "in the fall, students also collected money at football games by selling tattoo cheek cheers and beads. SHEPH also helped NHS by hosting a rice and beans lunch and donating 350 dollars to NHS."
It is the collaborative efforts among the clubs at Ames High that allowed the meal packaging event to become a huge success. With various teams and clubs taking initiative, Ames High students raised 4000 dollars, and Meals from the Heartland matched the fund through a grant that NHS applied for, allowing Ames High to have 8000 dollars or the potential to create 40,000 meals.
Many student leaders worked behind the scenes to make this event possible. Senior Nadia Huffman, the Vice President of National Honor Society, invested much time and effort to make this goal a reality from an initial seed of inspiration. "I got inspired to help organize a meal packaging event at the high school because through the World Food Prize Organization, I realized how unaware I was to how large a problem world hunger really is" Huffman shared.
Despite the rocky road of fundraising, the event was a huge success. Huffman shares that "[my intentions were] because it was the first year of meal packaging at the high school, we decided to experiment by doing a smaller event." But, the motivation among the students was surprising, if not shocking. The senior vice president described "the students were incredibly excited about it and showed great interest in doing it again next year. I even heard kids brainstorming ideas about how we could fill up the whole gym next year."
With closing remarks, Huffman gives her two cents. "I think the most rewarding part of the event was seeing how excited and energized everyone was to give back and make a difference not only within Iowa but around the world. I would have never imagined how motivated the students got to package meals. It was amazing to witness."