Student Council: Bridging the gap between students and administration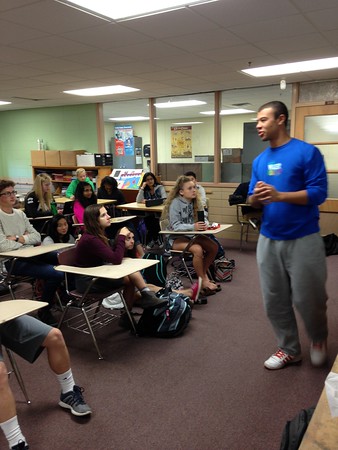 For a High School administration, creating a fun and intriguing school environment can be a challenge. With the wild and oftentimes inappropriate nature that comes with a younger generation, the gap between the wishes of Ames High students and the concerns of the staff can get to be pretty large. Cue Student Council.
"Student council is a group of students at AHS that are passionate about making the school a better place," said Senior Jay Amin, one of this year's Student Council Co-presidents. And it's true. From the craziness of winter madness to the chill atmosphere of coffee house, many of Ames High's in-school activities have spawned out of student council meetings.
As far as meetings go, "we discuss and implement ways to uphold, improve and celebrate who we are as part of Ames High School," Jay said. "Generally, we'll work off of student ideas," he added.
However, even though Students in "Stud Co" do brainstorm lots of ideas for new additions to the school, all proposals have to be passed through administration. Because of this, many ideas are dismissed due to either financial reasons or the proposal not fitting into regulations. To save time, Mrs. Diblasi is always present to supervise and give insight on the administration's side of the decision making while also expressing any concerns that might present themselves to any idea.
"We serve as middlemen between the student body and administration" Jay said. "We'll pitch an idea to administration and see how much of the idea we can implement after compromising within the limits of the school board policy and what administration wants." After approval, plans are made to initiate whatever the proposal may be. Volunteers from the group then take action to set up, organize, and oversee the event or activity to completion.
Whether you're enjoying the frantic fun of the Dodgeball tournament, rocking out at battle of the bands, or even gazing at the pictures in the hallways, remember that student council was among the few tools that put it all together. So if you have nothing to do on Wednesday mornings at 8:30, swing by room 106 to drink some OJ and share your thoughts of what you could make could make Ames High a better place.