More than Farming
Agricultural classes arrived at Ames High with a sidekick: FFA. From a literal stance, FFA translates to Future Farmers of America. Farming, we think pigs, cows, corn, John Deere tractors; basic Iowa agriculture things. FFA is centered around agriculture, but it's far more complex than the standard definition.
"A lot of kids think that agriculture is just like growing up on a farm, raising animals, and having plants to take care of out in the field, but there's a lot of agriculture jobs that are based on business that have to do marketing and advertising" freshman member Josie Mowrer said. In FFA, "you do a lot of career development type events and you can do workshops and leadership things," junior Reporter Hailey Sibbel said. "I really liked that balance." 
Those involved in FFA are required to take one yearly agriculture class though the school, "which isn't too much, and they're fun," confirms FFA President Katie Barnes. Classes vary from Plant Science to Animal Science. This requirement in joining may be a rejecting factor to some, but in large, the classes provide you with essential knowledge and earn you the Practical Arts credit required to graduate.  
Ames' FFA may be in its early stages in the eyes of many, but the successes of its members have lifted the chapter to its prominence in the state. Three members competed at Districts this past March: Katie Barnes, Hailey Sibbel, and Josie Mowrer. Hailey's field was Job Interviews. Katie did Extemporaneous Speaking, while Josie partook in Creed Speaking. Josie placed first in Creed Speaking and will be advancing to state this month (April 2021).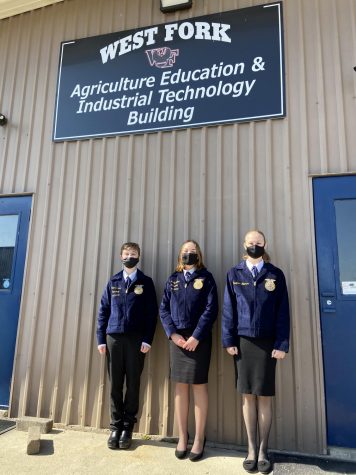 Competing usually isn't an easy task and requires background work. In preparation for Creed Speaking, Josie explains: "What I get to do is I memorize all 5 paragraphs and kind-of tell it like it's a story." With Extemperanous Speaking, "I don't think I've read so many agricultural articles in my entire life, but it's a lot of interesting stuff," Katie said. Job Interviews run a little differently, where one creates their own job. When competing, "there were people asking me interview questions and I just interviewed like I was interviewing for this job," Hailey said. 
FFA does require some effort, but the outcome and abundance of information is worth it. Currently, the Ames chapter of FFA stands at around 20 members. Being fairly new, this number is suitable, but there's always room for more members. "We're really hoping that next year we can help hook a few more people because it really is a cool opportunity and definitely one I recommend to incoming freshmen especially," Katie said. FFA meets Tuesday's after school the first week of the month. 
Josie Mowrer is among the freshmen who joined FFA this past school year. "I've definitely learned a little bit more how to work in a team setting, but I know from Creed Speaking personally, I used to be like this really quiet girl that would sit in the back of the room and never wanted to answer questions or give a class presentation. I can already tell how competing and just being around those other members has helped me come out of my shell a little bit and gain a little bit of confidence, so I'm not as scared and timid anymore." 
View Comments (2)
Your donation will support the student journalists of Ames High School, and Iowa needs student journalists. Your contribution will allow us to cover our annual website hosting costs.
About the Contributor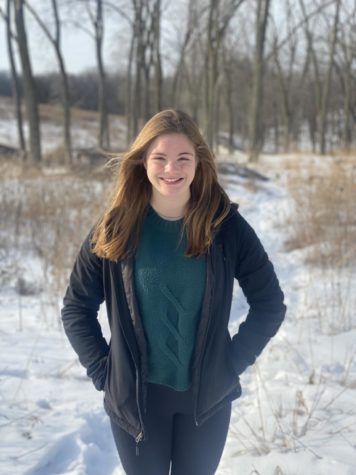 Leola Almquist, Features Editor
Leola is a senior who joined The WEB in early 2021. She spends her days running, biking, and driving around listening to music.