Tetris takes over the school
    A new craze is spreading through Ames High, and it's devastatingly addictive. Invented in 1984 by a Russian engineer, Tetris has recently hit a surge in popularity at our school. For those of you living under a rock, a game of Tetris involves stacking "tetronimoes" until you have a stack of at least four lines at which point you can use a straight tetronimo to send the eponymous "tetris." Rinse and repeat until you win or lose.
    It's a simple premise, but tough to master and very very addicting. More complicated techniques such as combos and "t-spins" add to the things that players must master to become truly good at Tetris, and there are many game modes with twists on classic Tetris. Players can even buy more styles and themes with "coins" they earn from playing. With this much stuff to do, it's no surprise that students spend hours a day playing up to hundreds of Tetris matches.
    Some play to relieve the stresses of high school life, some play to realize their unfulfilled potential. Senior Tyler Wessels plays to (no surprise) get all the ladies. Unfortunately, Wessels was unable to be reached for further comment as he was too busy playing Tetris. Clearly the addicting qualities of Tetris should not be underestimated, as even the best and brightest of Ames High has fallen under its spell.
Leave a Comment
About the Contributor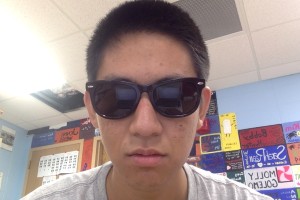 Charlie Fei, Entertainment Editor
Charlie Fei is the definition of beauty. A fun fact about Charlie is that he doesn't speak English. He's learning, but his brain is too scattered with...