Forbidden Fruit (Banned Candy)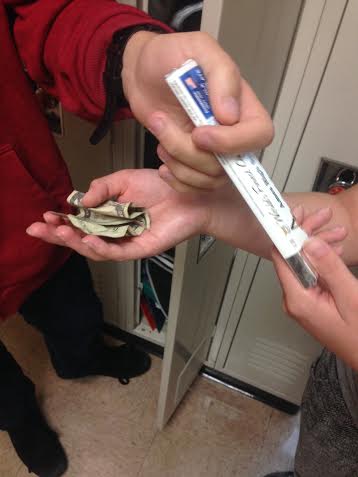 As a teenager in what seems like constant growing phases, the need for food gets to an almost primal desire for nourishment. Every September, the Ames High Marching Band receives boxes upon boxes of chocolate. Sweet chocolate. I always loved it. Selling Band Candy has been a tradition ever since my father went here (Class of '79) and it's always been the high price of a dollar.
Unfortunately, you "can't" sell this delicacy thanks to the Healthy Kids Act (HKA). The HKA isn't all bad; they've pushed  CPR training mandatory in schools, but it makes our fundraiser less convenient for us.
"I didn't know about [not being able to sell Band Candy] until yesterday," said senior Hannah Mumm.
"I don't sell band candy during the day," Aria Lippolis said, possibly.
Senior band member Melanie Long said, "Well, it is kinda stupid. I don't see why we cannot. People usually throw money at me, usually in singles. And teachers get in on it too."
Band Candy "disappears" in many different ways. Another senior in band this year is saying she has a brother that just eats the band candy, only because "some people have a parent that'll just pay the $60 fee." I, for one, sometimes put it on sandwiches and post it on my Instagram (@jar_lar).
"I eat it all over three months," said yet another senior Vince Montabon.
So, as you can see, by having a "Healthy Kids Act," students are actually being more unhealthy by eating the candy by themselves, instead of actually being able to share a few calories with their friends. Your move, Iowa Department of Education.